Just in via UK retailer Agbee, we have some new retail images of the Transformers Bumblebee Cyberverse Adventures Battle Call Officer Class Bumblebee figure that we saw at Toy Fair in February. Read more about this line of toys that responds to voice commands in the official product description and images below.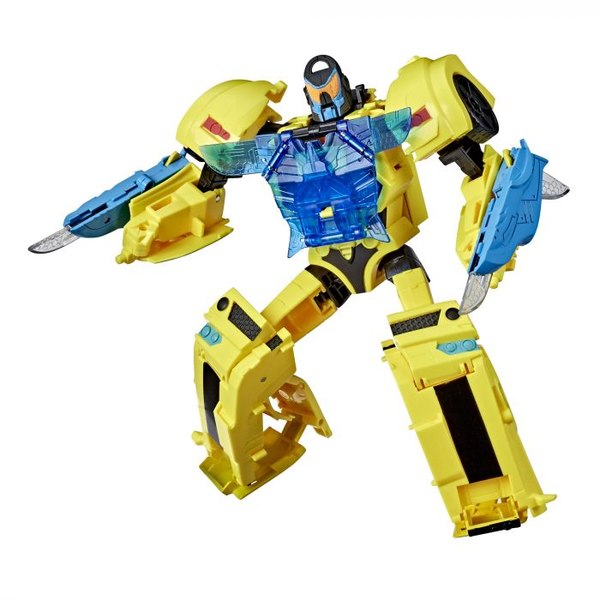 Transformers Bumblebee Cyberverse Adventures Battle Call Officer Bumblebee

Ages 6 and Up
Approx. Retail Price: $49.99
Available: August 1, 2020

The Officer Class BATTLE CALL BUMBLEBEE figure is an impressive 10 inches tall and easily converts from car to robot mode in 10 steps. Officer Class BATTLE CALL BUMBLEBEE features voice-activated phrases, lights and sounds for a cool new play experience. Kids can use voice activation to armor up their BUMBLEBEE in translucent Energon Armor that flips out from behind the figure and onto the chest, complete with sound effects. With the included signature pull-n-covert weapon, BUMBLEBEE is ready for battle! Officer class BATTLE CALL BUMBLEBEE also says 15+ phrases such as "AUTOBOTS, Unite! and "Go AUTOBOTS!", and can command Trooper Class figures with interactive sounds. The BUMBLEBEE figure is inspired by the courageous AUTOBOT scout from the TRANSFORMERS BUMBLEBEE CYBERVERSE ADVENTURES series, as seen on Cartoon Network and YouTube. With Battle Call Officer Class figures, kids can lead the charge to action with voice-activated Energon Power. Collect other Battle Call Trooper and Officer Class figures (each sold separately, subject to availability) to discover more exciting characters from the G1-inspired CYBERVERSE series – one of the best ways to introduce young and new fans to the exciting world of TRANSFORMERS! Available at most major toy retailers.