The Cracks Beneath Your Feet, Part Three is written by Brian Ruckley with art by Angel Hernandez and Anna Malkova with colors by Joana Lafuente.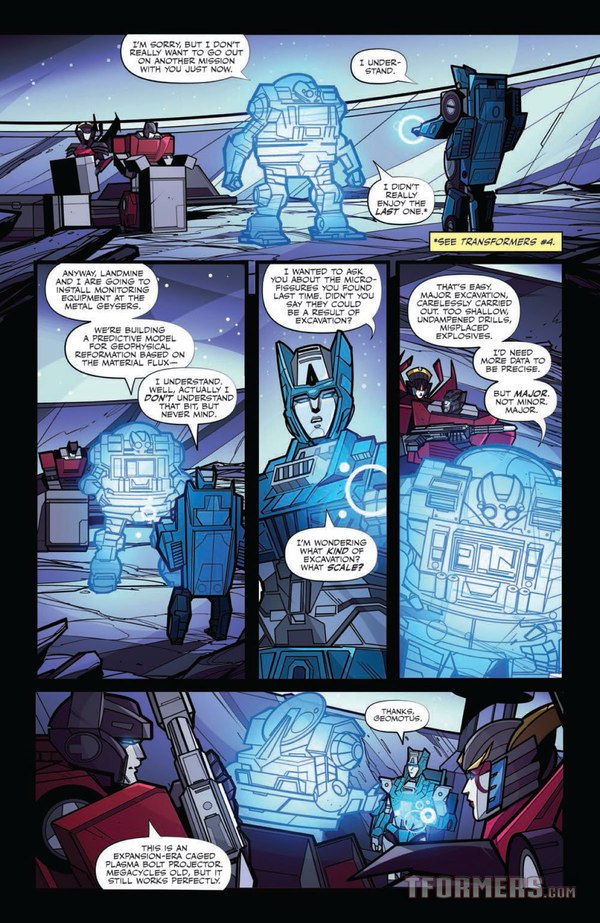 This is the extent of Geomotus' appearance this issue, and happily it's a character telling us about themselves instead of Family Guy-That-One-Timing us about someone off-panel.
Meet the Rise! We finally get a sense of the scale of the Rise faction in this issue. We just a bit of it for ourselves, and only one member we haven't already seen is physically present, but there's enough to show that the literal groundwork for the Decepticons has been laid. Between that and some minor dialogue in the previous issue, it's not at all difficult to figure out who is behind the Rise - but that's part and parcel of trying to do a reset of a long-running property where the particulars of the characters have been known forever. I haven't seen Spider-Man: Far From Home, but I had a pretty good idea of what Mysterio's deal would be from his introduction because of his long history in the comics. With that kind of baggage, the pacing and the murder mystery approach work against the story when the answers to the questions the story is posing are relatively obvious.
That said, this issue moves along pretty well all in all and the story feels like it's accelerating. After IDW volume 1 doing so much to provide avenues of storytelling other than direct Autobot/Decepticon conflict, I hate to have to say that some direct Autobot/Proto-Decepticon conflict helps this book a lot. But it does! One other thing I did very much like is that Geomotus returns for a scene and is allowed to contribute a bit more directly than previously. And to talk about himself! It's good to see his inclusion followed up on. Hopefully he and other characters we've taken the time to introduce in-depth up to now will get more page time as well. And lastly, I want to see what happens next issue because the events of this week's final page concerns me.
Angel Hernandez handles the majority of the issue. The action's done well enough and is easy to follow, though still a little stiff. The mood though is great for scenes occurring in a series of semi-abandoned, poorly-lit underground tunnels, and the sequence works very well. Hernandez is good with architecture, as I've said before, and having that sense of solidity when you're dealing with staging action scenes on an alien planet isn't a bad thing at all. Anna Malkova gets just three pages in this issue, but they're good ones. Malkova has a way with character and expression that makes her pages a real treat, and the more pages they let her do the happier I'll be. It's kind of interesting too, because the difference in location in one of the pages, coupled with Joana Lafuente's colors, make for a scene that is so much brighter than the rest of the book it really draws your attention to the fact that it's by a different artist. There's nothing wrong with that, but I just thought it was fascinating how much that stood out. Lafuente gets a lot of variety into the separate low-light environments that occur throughout the book, from the eerie blue of the Cybertronian sky to the purple glow of the Rise compound's monitors. And then a scene aboveground in a dark alley manages to have a completely separate texture from the rest of it.
It's a decent issue in service of a larger story I'm having a hard time caring about because I feel like I've seen all of this before with better pacing and characterization, and not treating the foregone conclusions of the basic Transformers story, now 35 years old, as mysteries. (Or, in some cases, foregone conclusions.) But I think a lot of that's on me because frankly, I very much am old and jaded. I feel bad continually belaboring these points. At the same time a lot of people put a lot of effort into this comic and I do think it at least has the potential to become something I like given enough time. It's just hard to give it that time right now, nine issues in and still in the middle of what appears to be an extended prologue.