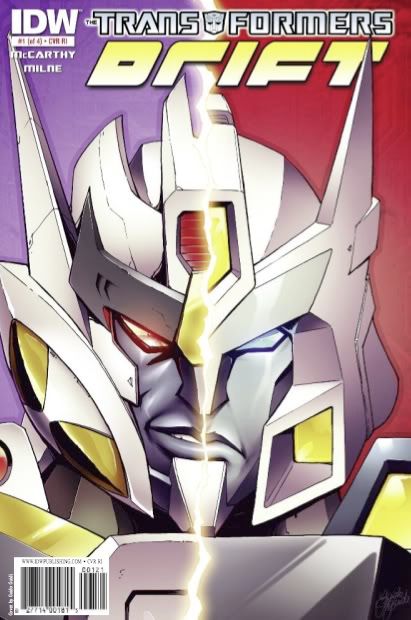 Damaged characters make the most interesting stories, and Shane McCarthy has started the next miniseries with a bang! Literally! Drift, the fall miniseries from IDW, is truly a damaged character, or should I say previously known as Deadlock. This opening issue describes a Decepticon soldier who is so focused on ending the war he acts almost in desperation but even deeper are the motivations hinting of a earlier past that haunts him. Finding himself stranded on a planet, alone, outcasted, and within the company of a lone ally who gives him a way to escape, they attempt to stage a jail break which goes horribly awry.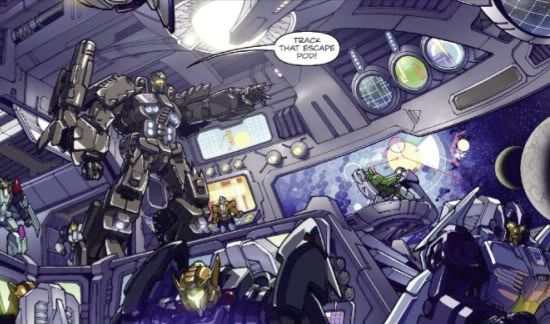 *Drool* I want this panel framed on my wall! Complete WIN!
Sounds simple, right? This is no simple comic by any means. The art is fantastic! Alex Milne illustrates great movement, composition, variety, and knowledge of the Transformers. The space is used wisely, the character expressions are spot on, an excellent study of what I'd like to see in a Transformers comic start to finish. The detail alone in some of the panels will keep revealing information every time you open this comic. The arrangement of panels and the use of the splash pages are incredible. It's the little things I keep finding every time. Josh Perez compliments Milne's drawing. The colors pop off the page, add mood and dimension. And the use of color makes sense from bright sunny world to dark neon lit spaceship. If they can keep this level of art throughout the rest of the miniseries, this will fast become my next favorite comic this year!

This masked figure with furry boots looks familiar...
The pacing is snappy, but there is so much information conveyed within a few panels to move the story along, I don't really mind how fast it is. You immediately get the sense that they have so much story to tell and so few issues to tell it, the rest of the series is going to be carefully and judiciously told. The dialogue doesn't stand in the way as well. Every bit of text is the right addition to what needs to be said. If you took any of it away it wouldn't feel right. Yet they can pause long enough to add the humor the tale needs to feel emotionally satisfying.
I become both horrified by the deeds of Deadlock and then sympathetic to his hidden pain. He's resourceful, a survivor. They balance all the elements of characterization well. I can't wait to get the next issue and learn about the questions driving me through the comic? How does Deadlock become Drift, why is he desperate to end the war? How did he choose the Decepticons in the first place, and what drives him to going after Commander Turmoil in the end? I hope McCarthy throws in a twist or two as well. This story has a plethora of possibilities, as straight forward as it does appear to be, I sense a few curve balls.

Head butting is freaking AWESOME! Except the ache afterwards.
The track record for IDW this year has been a little shaky so I do admit to having a little doubt about how this will end, but we are off to a cracking start! And I can't help but be excited. It's nice to have a new writer with a new fresh view on Transformers. If you get a chance to pick this comic up, I highly recommend it. It's well worth the money on the art alone, but the story is also well told and I'm predicting it will gain momentum. Besides in two weeks we get our next installment!
If you would like to hear a more in depth, spoiler review of this comic. Check out
the Underbase comic review podcast posted every Wednesday.
| | |
| --- | --- |
| Reviewer | ladywreck |
| Date | September 7th 2010 |
| Score | (9 out of 10) |
| Reads | 9589 |
Back to Reviews Index