Click any photo to view larger sizes!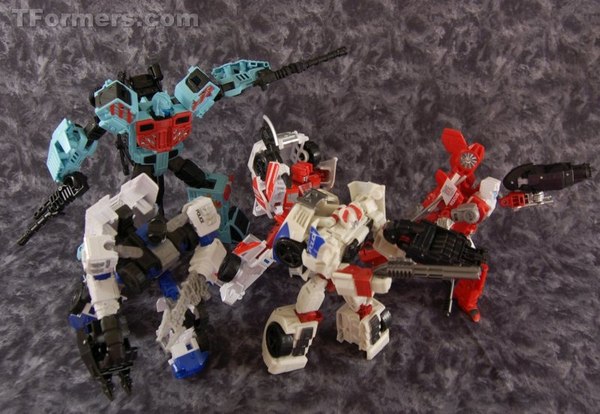 So we've seen the Protectobots: Blades, Rook, Hot Spot, First Aid, and Streetwise.
So I guess there's only one thing left to do.
Converting Hot Spot to a torso is actually pretty ingenious: Once you have the limbs and head dealt with, the ladder swings around 180 degrees and unfolds around the torso. In the process it locks down the arms, making for a more stable unit.
Lastly, the head folds up and turns around. There's something about the head... I just really like that flip-top skull.
One thing to note: the instructions suggest that you leave Hot Spot's chestplate folded down. It does add a tiny little extra note of substance to Defensor's midsection, but also restricts how far back the legs can swing. Depending on how you feel about that, it may be best to flip it back up like in the official photography.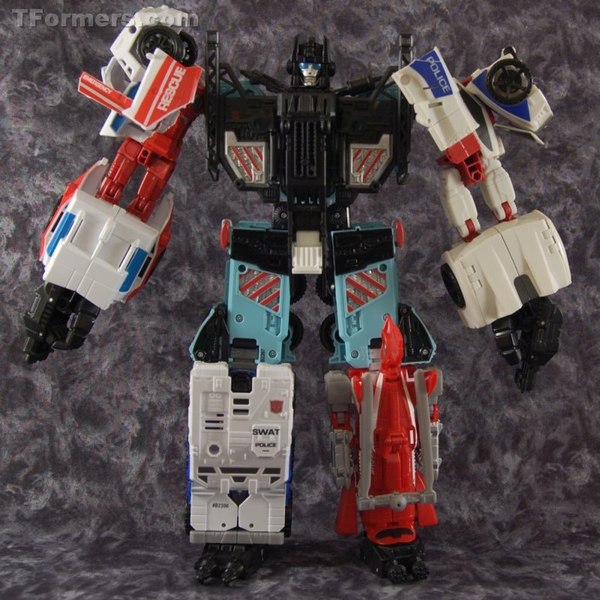 And here is Defensor in all his glory. Possibly more than any other Combiner to date, he looks like a more streamlined version of his G1 self. It's still a pretty boxy torso, but the designers at Hasbro and TakaraTomy have done a great job of making him look more dynamic.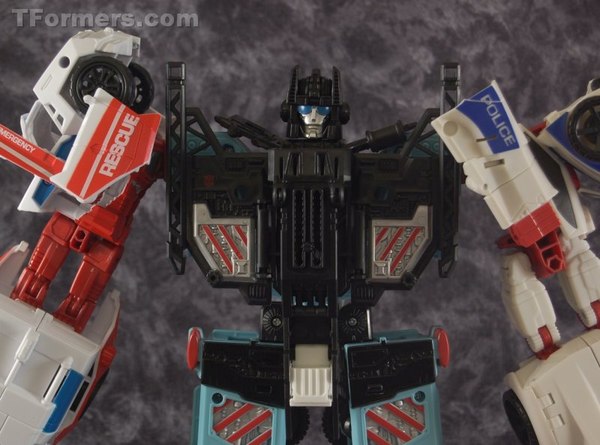 The head's not quite as broad, but otherwise is a nice match. The black pectoral parts have swallowed up the whole torso now, leaving a lot less of Hot Spot's blue showing through. And of course all the red striped stickers are now part of the deco itself!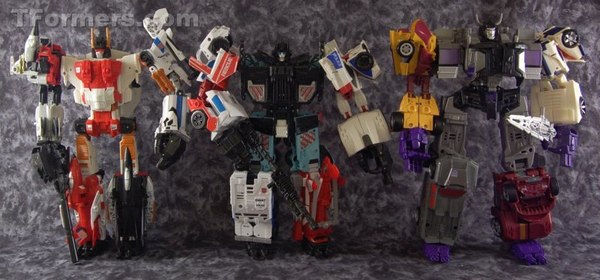 Overall he looks blocky and powerful, just like the original. Proportionally Defensor hews closer to Menasor than Superion, but in that sense, he's kind of like Menasor perfected. Or at least improved.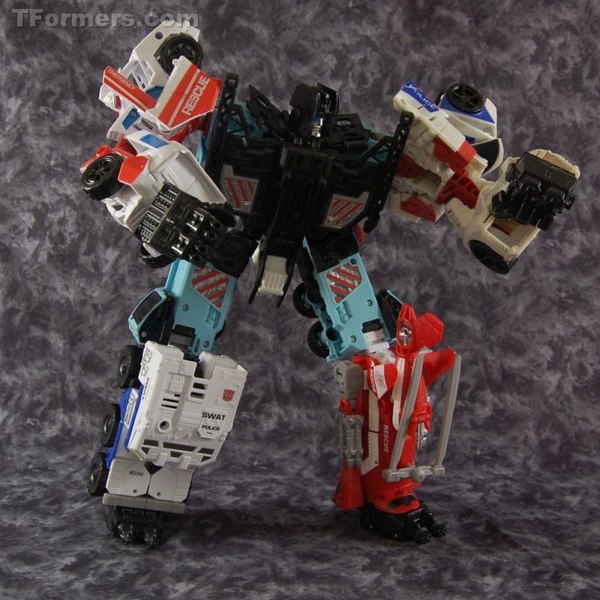 His hips are quite nice and not weirdly angled unlike Menasor's, though moving them does still make the torso look a bit squatty.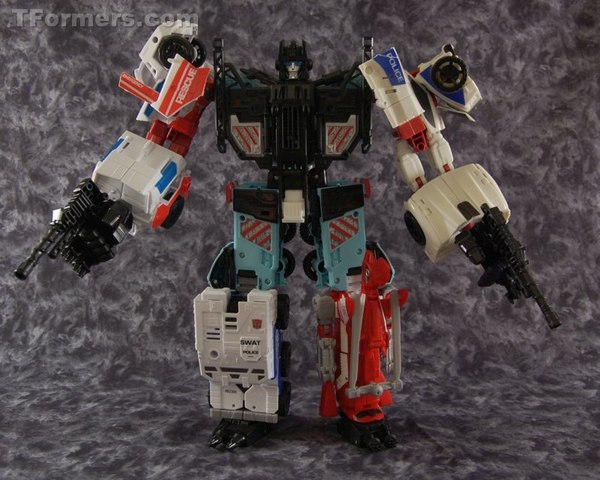 I'd expressed some concerns with how broad the automotive robots looked as part of Superion, but due to Defensor's wider legs they look just fine that way. But man, it sure does make the feet look smaller. Luckily there's a variety of third-party solutions for that if it bugs you. And if you want Legends-class Groove, you can attach it to the chestplate, but it looks entirely fine- and G1 accurate -without it.
Defensor's head swivels, but has very little tilt. Which is fine because tilting makes him try to flip his lid.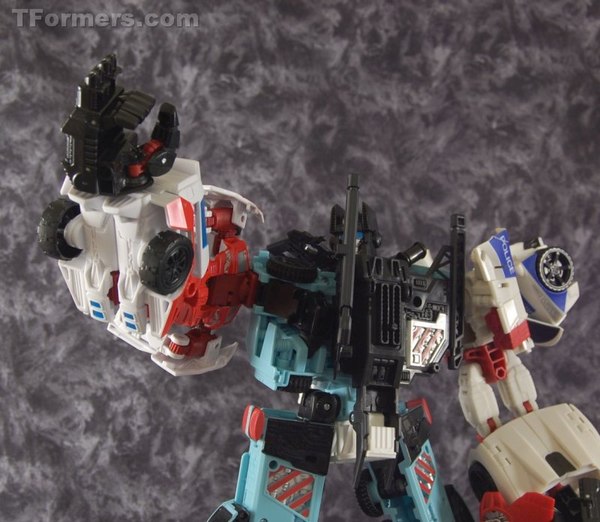 You may want to keep a thumb on the chestplate when you swivel the arms - the Combiner Wars pegs are very stiff, and Hot Spot's arm may decide to pop loose and swivel instead. The outwards range of the shoulders will vary a bit depending on who you're using as an arm. Arm articulation is otherwise as laid out in our reviews of the individual Protectobots but generally pretty good.
There's no waist, due to the wraparound nature of the torso. The legs swing outwards a fair bit, and swing pretty far forwards or backwards.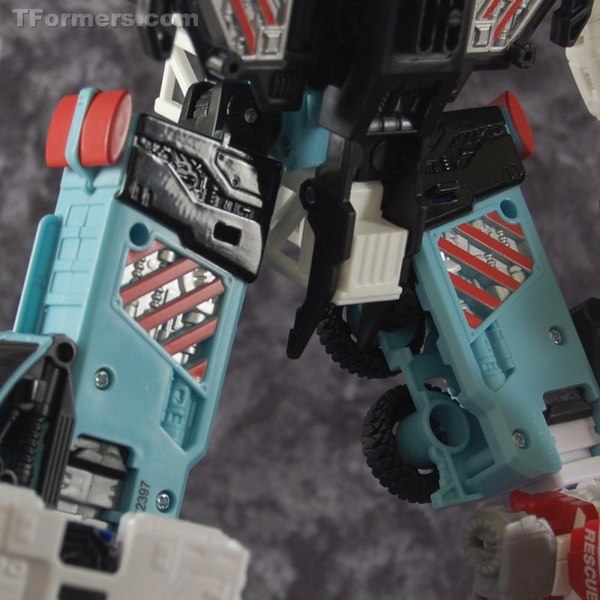 Though you have to navigate the thighs outwards a little bit to avoid the wheels on Hot Spot's legs catching on the crotch.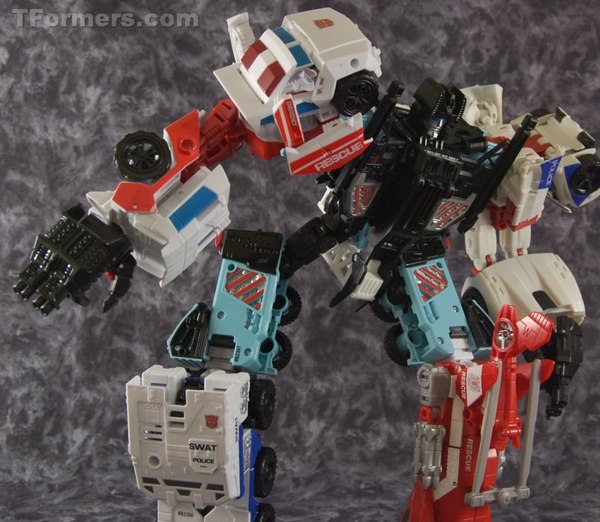 My Defensor has one hip joint that's a little droopy - it doesn't lock in quite right and wants to re-extend to become Hot Spot's leg. It's not unique to my figure by all reports, but it affects stability and most ordinary poses minimally. And the knees all work just fine.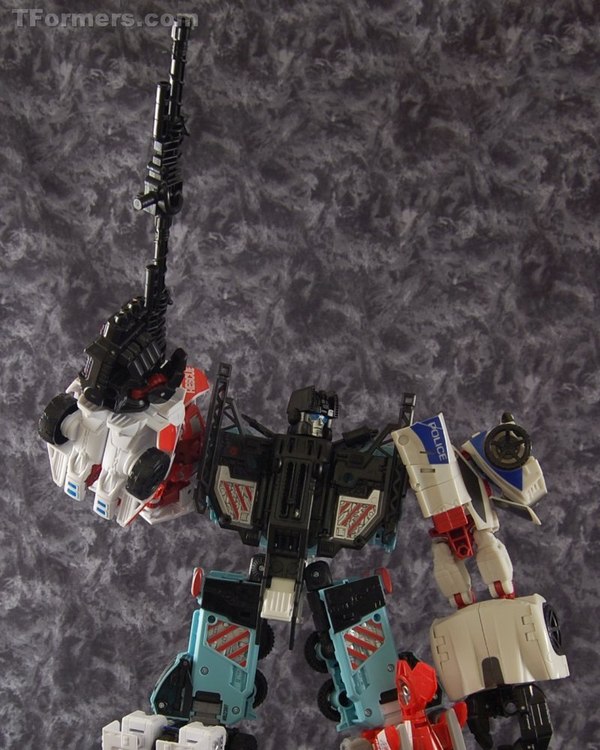 Hot Spot's fireball cannons peg together in the same manner that Optimus Prime's guns did and become a single long, thin gun. Just like Optimus Prime's guns did. It's not super-impressive, but if you want Defensor to have one hand free, it's a decent option. One last note, I had to use some clear nail polish on the peg on mine to get them to stay connected firmly.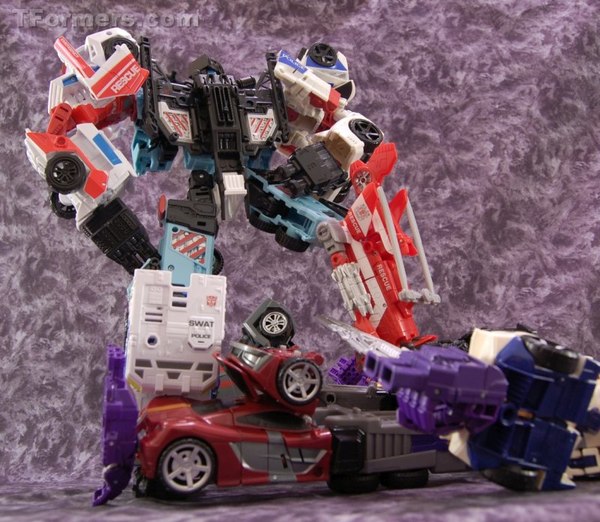 Overall, I think the Protectobots are the best Combiner Wars team so far... but Hot Spot as Defensor is the second-best torso. Silverbolt as Superion still has a bit of an overall aesthetic and technical edge. But Defensor is a close second and more functionally sound than Menasor, and I like his component robots better overall. As a whole, Defensor is absolutely Excellent on the Figurereviews.com Non-Numeric Ratings Scale.
| | |
| --- | --- |
| Reviewer | RAC |
| Date | July 6th 2015 |
| Score | (9 out of 10) |
| Reads | 6025 |
Back to Reviews Index