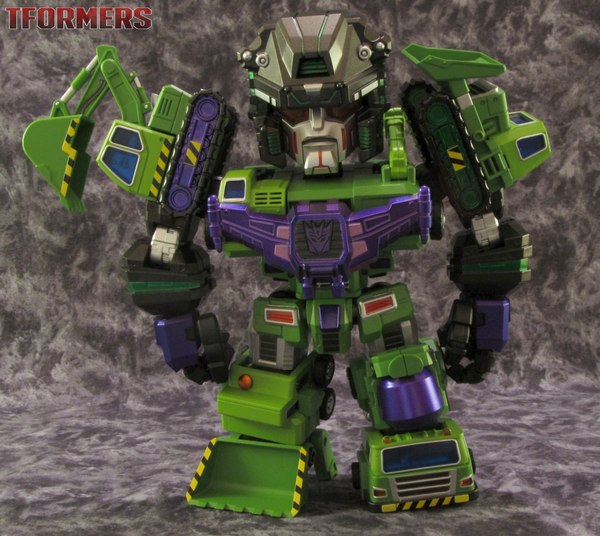 Click on any picture to go to the gallery!
The Mecha Nations line of collectible Super Deformed display figures has moved onto bigger and better things with their MN-08 Devastator, a massive figure crammed with deco, articulation, options, lights, sound, and a couple of choice accessories.
Let's start with the obvious: this is a really big figure for an SD-style toy. It's nearly twenty centimeters tall - taller than a Voyager-class figure and almost twice as wide. On top of which, it's pretty heavy. Devastator definitely makes his presence known.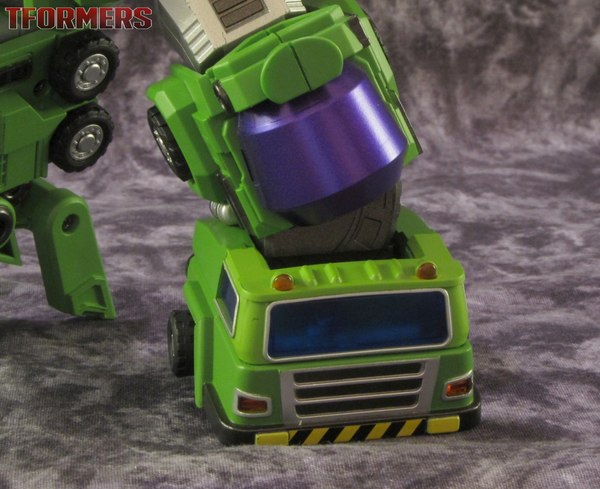 The design by is an interesting take on the G1 character. It's not based on the Generations figure, as you can see from Mixmaster - and the silver thighs speak to a possible Studio OX influence. But I haven't found any single version of the Constructicon combiner that this sculpt corresponds to. Likewise the deco appears to be an all new creation by Kids Logic. Featuring some familiar details but a lot more hazard paint than I'm used to on Devastator, it's perhaps just a little busier than I might find ideal. But it does add another layer of detail, and this figure is all about detail.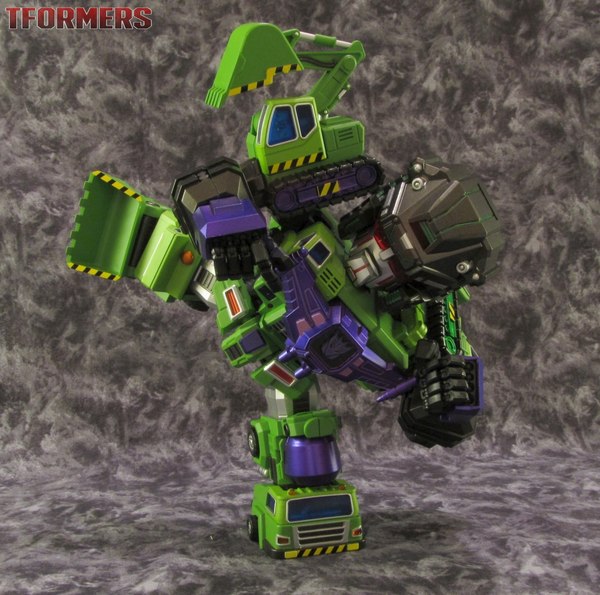 For example, articulation. The box advertises 25 moving joints, and that may be a technically accurate statement. But ExVee and I count things a specific way - universal joints like the hips, for example, get every axis of movement counted as a separate point of articulation. Going by our counting method, I get something like
SIXTY-TWO
points of articulation.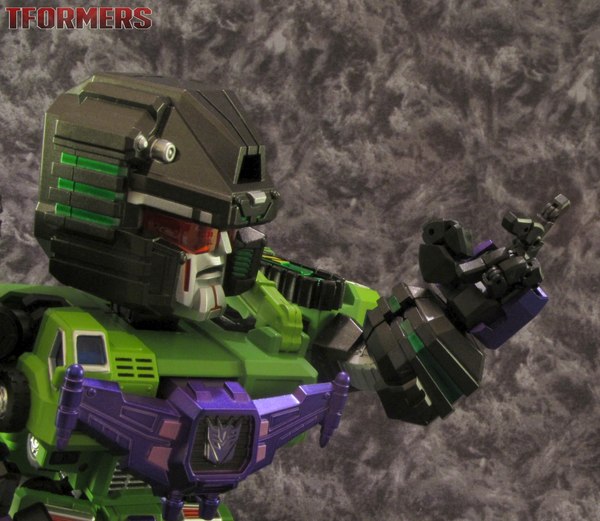 That may sound slightly bonkers, but a lot of that comes from the hands, which are articulated to a degree I associate with Gundam Perfect Grade model kits. The bottom joints on each finger, thumb included, are ball-joints, and the rest are hinges. It comes closer to replicating the full range of the human hand than anything else I've ever owned except, well, my actual hands.
The rest is not anything you haven't seen on adult-collectible figures, but it's a solid amount, especially for Devastator's proportions. The head swivels and tilts - and everything except the fingers is ratcheted, so I hope you like clicky toys. Also, Devastator has an articulated jaw. The shoulders swing forward and back as well as outwards, and also swivel. There's an upper arm swivel, and a double-elbow. The wrist is a ball-joint with fair range. The arm curves inwards a bit, which makes Devastator look appropriately tough but makes some posing a little weird to manage.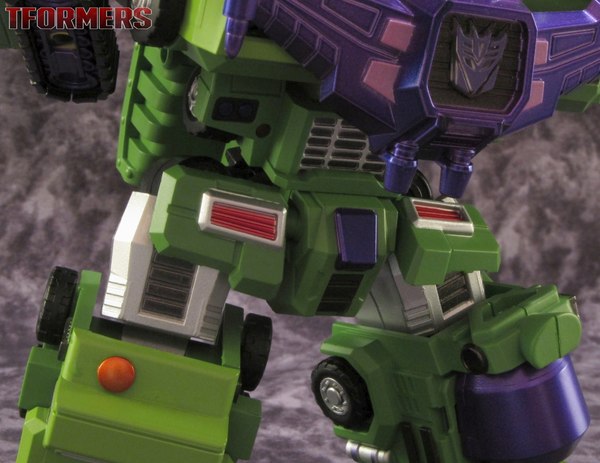 There's a torso joint - it works, but tends to stick, and those never add as much to dynamic poses as you think they will. The waist ratchets are actually TOO strong, and takes a worrying amount of force to move. The univeral joint hips are plenty strong enough to support the toy, and even the thigh swivels have a good strength and tension to them. The knees have range that might be lacking on a figure of more standard proportions, but for these stubby little legs they're about perfect. The ankles are great - they have both forward range and rockers, both good and strong and clicky.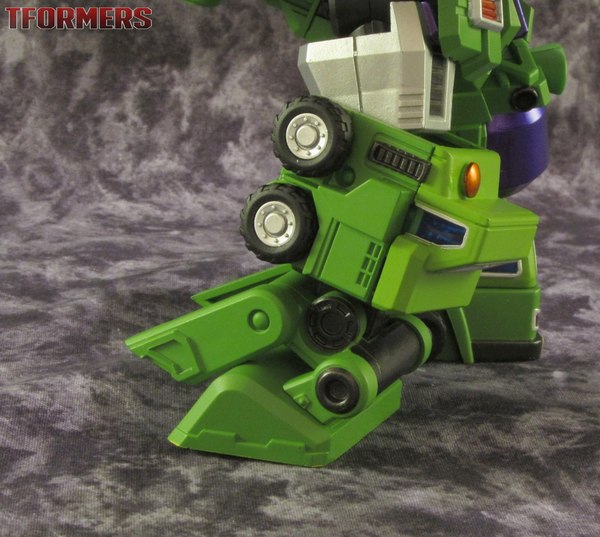 Also, the shovel on Devastator's Scrapper Foot is hinged AND swiveled - and the joint is strong enough that I didn't even realize that at first, so holding the figure's weight is no big deal.
Overall, the toy's balance and stability are quite impressive - again, especially for an SD figure.
And that's just practical articulation. There's quite a few other moving parts: The only individual Constructicon that doesn't end up with a moving part is Mixmaster. Everyone else's shovels, cranes, and dump truck beds all move, even if it adds nothing practical to the figure. Also, the skirt armor plates are ball-jointed, which helps free up the legs fully.


And last but not least, Devastator has a lever that lets you make the crucial Devastator choice of eyeballs versus visor. It stuck once for me briefly but didn't take any special work to unstick when it happened.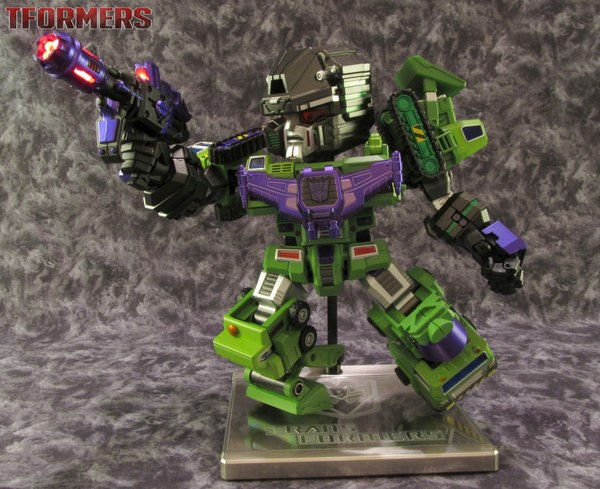 There's only a handful of accessories. Literally: two of them are a gun and a hand to hold that gun. But we'll get to that. Let's start with the stand.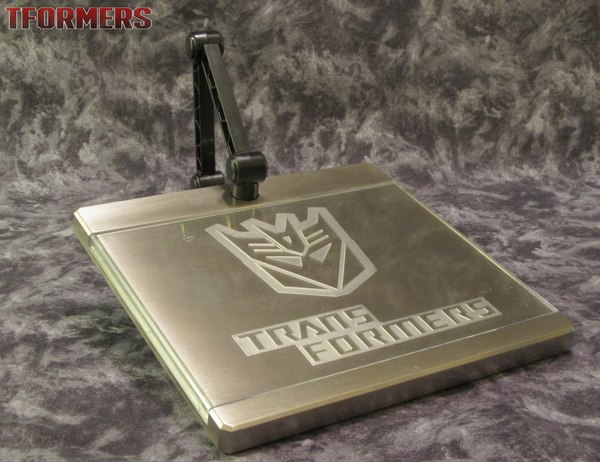 The stand is pretty. It's got an advanced type of metalized finish that looks more natural than most vac-metal processes seen on toys. The clear plastic panel allows for the frosted or etched-looking emblem and logo. The stand itself fits the back of the toy securely, and holds weight well - though I don't think it's actually intended to hold Devastator up off the ground for extended periods since it's a bit wobbly. But the thing I like most is that the stand has pushbuttons at each joint to allow movement. When they're released, the stand locks. I like that a lot.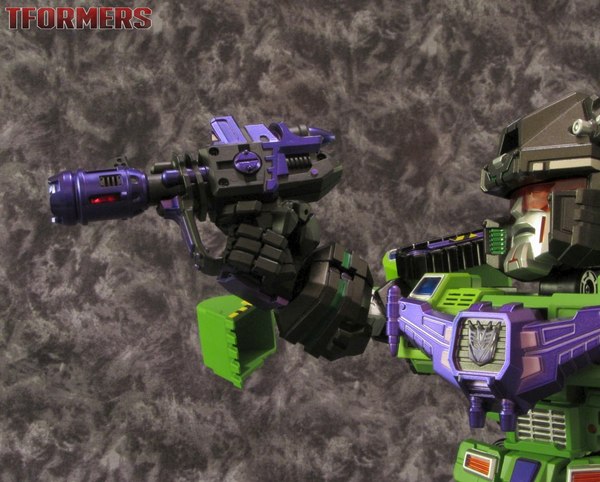 The gun can actually be held in the normal hand, but it's a bit droopy.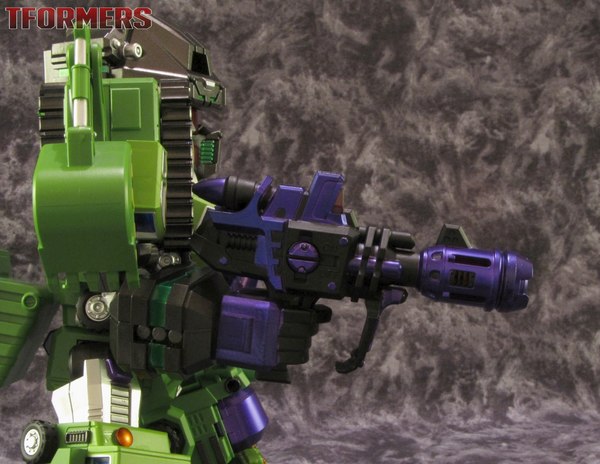 The dedicated hand is much more...
...wait, how does that get in there?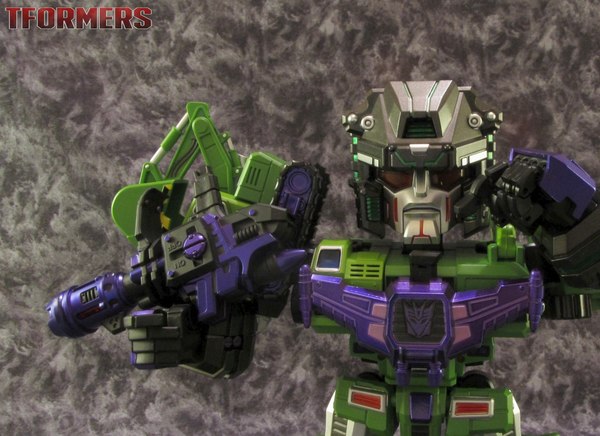 This is how! The end of the rifle's handgrip is removable to allow the gripping hand to be a snug fit. It also allows for relatively quick and simple removal and replacement of the gun. That's going to be important in a minute...
...Devastator lights up. WAY up. These suckers are bright. Scrapper's is of limited use since it points down, but it'd look weirder as a whole if it wasn't there. It's a great effect, and a crowning touch on an elaborate toy.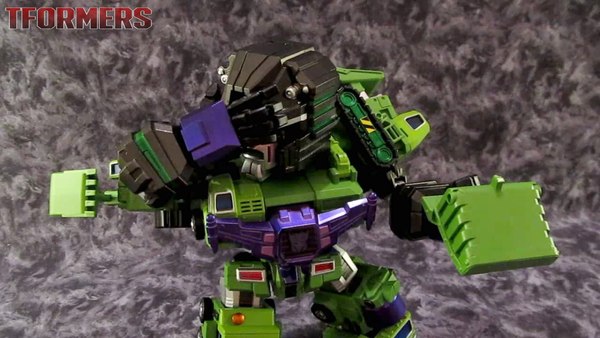 But not a toy without issues. Namely, issues in an area common for high-end collector toys: fragility. In the process of reviewing this toy, I have knocked off a tire, a thumb has come off during normal operation, the right leg has come loose from its socket repeatedly... and Long Haul's truck bed snapped off irreparably in my hand. The rest of that would be minor fixes, but the truck bed is a heartbreaker. And the hip, that's a symptom of a larger problem: Devastator's ratchets are too strong for its own good and the force required to turn the stiffest of them is potentially even damaging to the toy.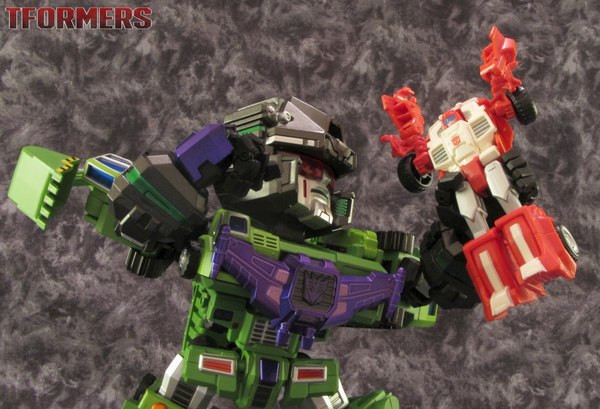 It's a shame. It's a gorgeous figure with a high attention to detail and a lot to offer. But as many large and small things as have gone wrong with my copy I hesitate to recommend it - especially at a suggested retail price well above $100. Most of the issues are fixable and minor, and probably unique to my copy. Just beware of that tiny, tiny inadequate strut Long Haul's bed is attached to, especially when turning the waist. This is high-end shelf candy, and it's meant to assume an impressive pose, be put on display, and be left alone most of the time. If that's the level of involvement you're looking for from this and you treat it gingerly, you'll probably be fine. Just... be careful, okay? That's a lot of money for a toy that can't decide exactly how durable it needs to be.
| | |
| --- | --- |
| Reviewer | RAC |
| Date | May 16th 2016 |
| Score | (5 out of 10) |
| Reads | 4104 |
Back to Reviews Index