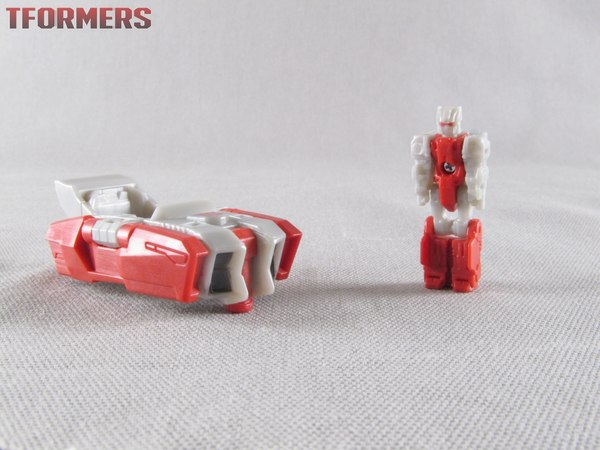 Click on any picture to go to the gallery!
Titans Return is largely focusing on characters from 1986 and 1987. And by "largely," I mean "at all the traditional size classes." But below that, we're making headway into 1988.
Based on Siren, the Loudmouth set consists of a Titan Master whose name should really be Quig (..."Quig?") and a vehicle somewhat reminiscent of Siren's original body. Mainly in color scheme, since he was a fairly Earthly-looking car in his previous life.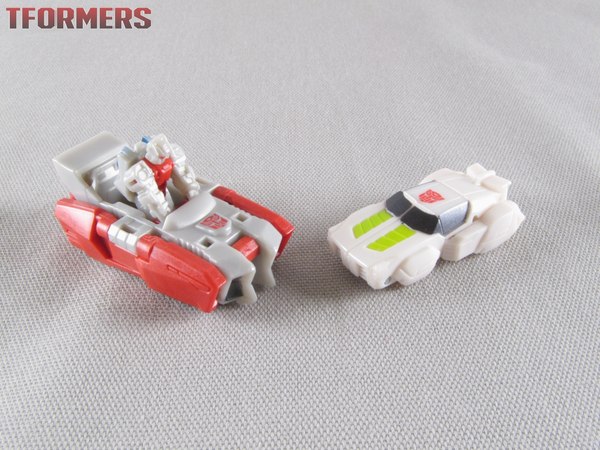 I like the styling; it feels very much of a piece with Minimus Ambus' vehicular mode, lack of wheels and all. There are pegs to plug Loudmouth into this mode; they're difficult to use but thankfully unnecessary at the same time. He sits comfortably in the car without using them at all.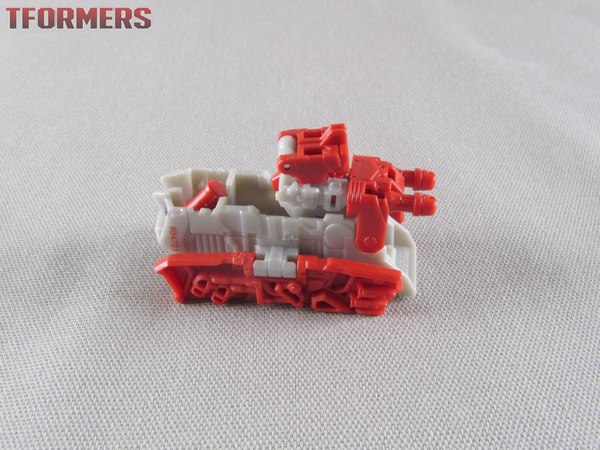 The car essentially turns inside out into a little tank, and Loudmouth completes the turret in head mode. Face down, of course. You also have to turn the Titan Master's own head around backwards to make it fit, but it works well. It fills in some empty space in the tank mode, using the peg holes in the feet as two extra barrels, and technically gives Loudmouth an alt mode all his own, not dependent on any other Transformer. He's not just a pretty face!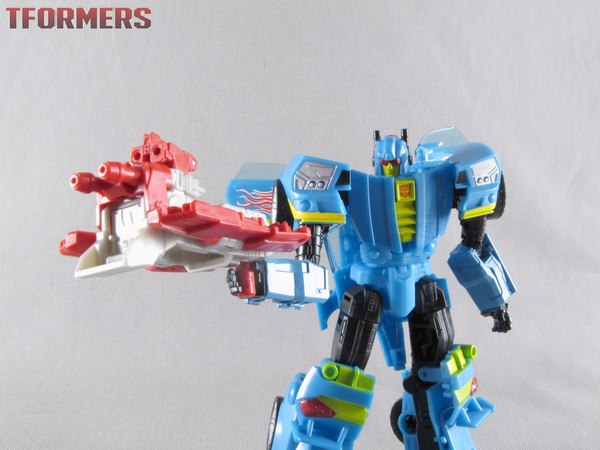 The third and final Blaster Mode involves flipping the sides of the tank up, and flipping out the 5mm handgrip. Happily, that handgrip gives these sets an interactivity with almost every Transformer in existence. It's a bulky gun that'll probably look best in the hands of a Voyager class figure or larger.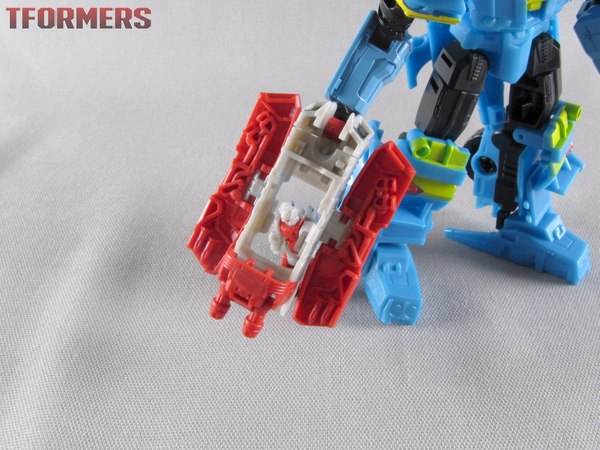 If you happen to be using Loudmouth in his intended function as a head, it does leave a pretty ugly hole in the top of the gun, however. They work best together.
Quig (..."Quig?") has the same basic Titan Master articulation ExVee
covered in his Emissary review,
with the points of articulation at neck, shoulders, hips, and knees.
All of his leg joints are super-floppy, though, so it's good most of what he's designed for gets him off his feet.
HEAD ON!
...it looks remarkably like an ordinary head. Siren transformed from a gray and red car to a blue and gray robot, and the blue muttonchops are the only vestige of that idea to make itself known here. The silver plastic isn't great, though - it swallows a lot of the detail of the face and helmet. But if you want to do the obvious repaint, which we'll get into next time, that's not too terrible.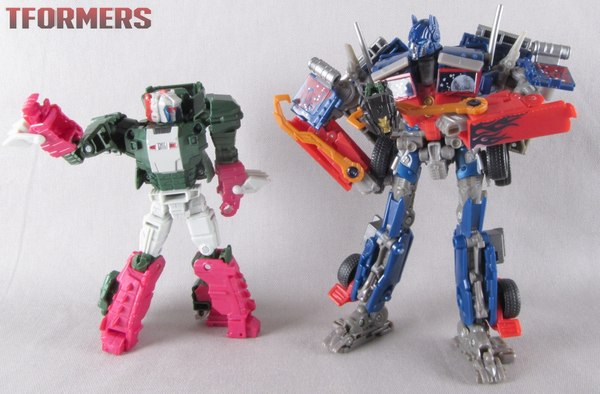 Overall, I really like this new size class. For $5 you get a new head for your Titans Return figures plus a triple-changing mini-vehicle/gun micro playset. Customizers have a ready-made Siren head, and if there aren't a variety of third-party neck adapters by the end of the year, somebody goofed. Loudmouth's knees are bothersome, but since he can also be a tank, he can also be a gun, he can also be a head, or he can just drive his little car around, it's not a huge issue. But with the nature of the Titan Master leg joints and the tiny pins therein, I don't foresee it being very easy to correct for this. So hopefully, problems like this are going to be few and far between with the line. Let's hope!
| | |
| --- | --- |
| Reviewer | RAC |
| Date | July 5th 2016 |
| Score | (8 out of 10) |
| Reads | 6247 |
Back to Reviews Index