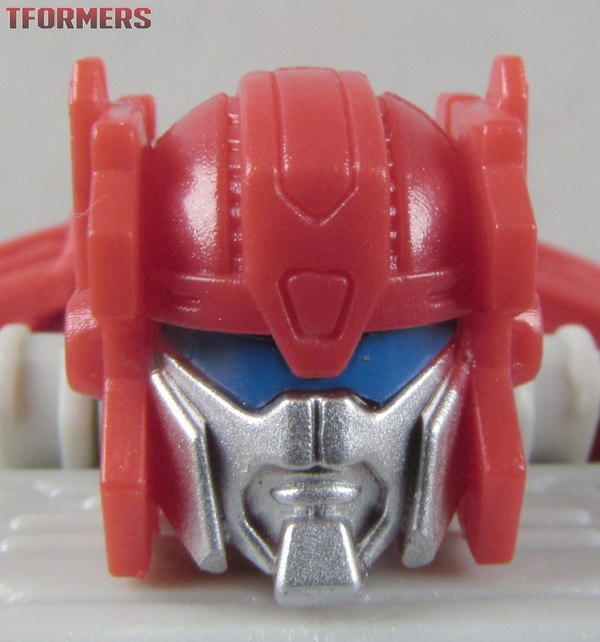 Click on any photo to go to the gallery!
Every other Technobot in this set has a new something. New head, new weapon, almost entirely new vehicle mode... so what's the new thing here? Nothing but a fun trademark dodge of a name. Say hello to Lightsteed!
The original Lightspeed was a futuristic-looking car with a large, domelike windshield dominating an otherwise red form. Lightsteed is Streetwise, a fairly Earthly looking police car, with a paintjob made to emulate that color layout. For one, he lacks the spoiler of the original - probably why Takara is going with the Wheeljack mold. Structurally, he also looks nothing like the original figure in any other respect except being car-shaped.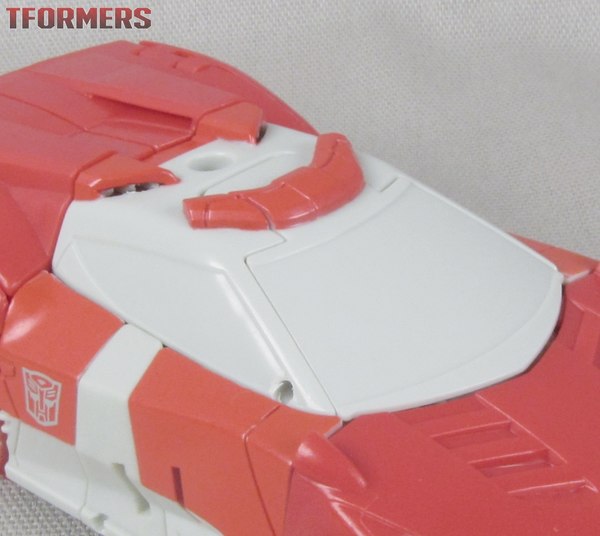 You know how sometimes in video games they'll have an alternate character skin that struggles against the existing details of the character model and doesn't quite fit? That's Lightsteed. Trying to suggest that bubble dome by ignoring the sculpted detail on Streetwise bugs me. The side-panels work pretty well, however, even with the standard interruption of the unpaintable plastic that shows up on this mold so often. There are some typical paint-plastic match issues too, but not the worst I've seen.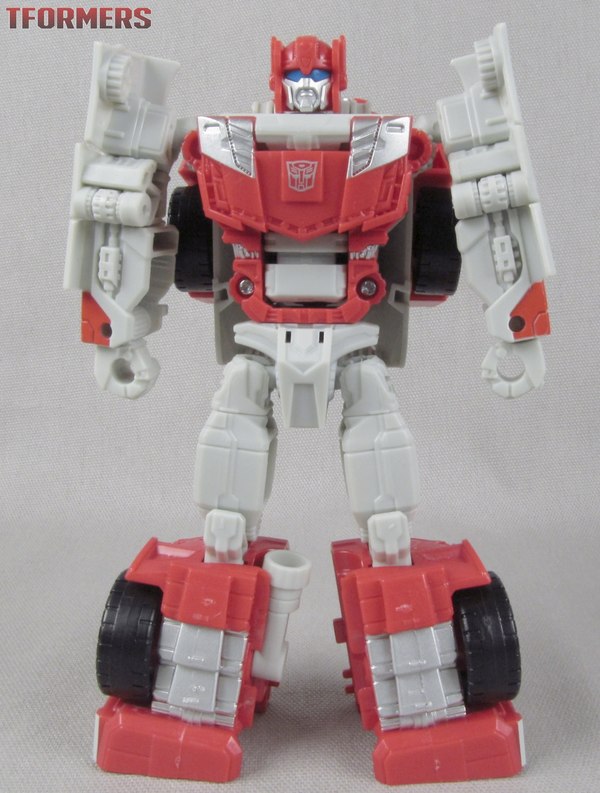 Transformation, like everything else, is unchanged. I'm unsure whether Lightsteed's drastically different deco when compared to his G1 self is an attempt to break up what was in all versions a sea of solid red... or just a consequence of the color layout for the vehicle mode. Either way, he's not bad looking but he's definitely no match for any previous version of Lightspeed. Which has its pluses; no windshield potbelly anymore. The articulation is unchanged and pretty decent, but his shoulder joints are all a bit weak relative to Streetwise.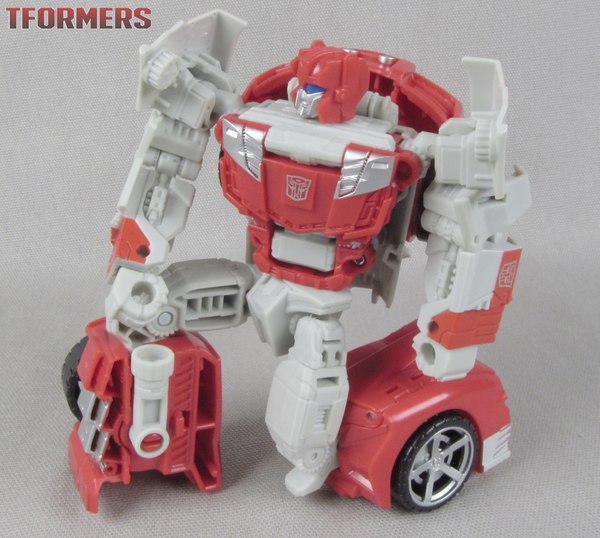 Still the best kneeler in Combiner Wars.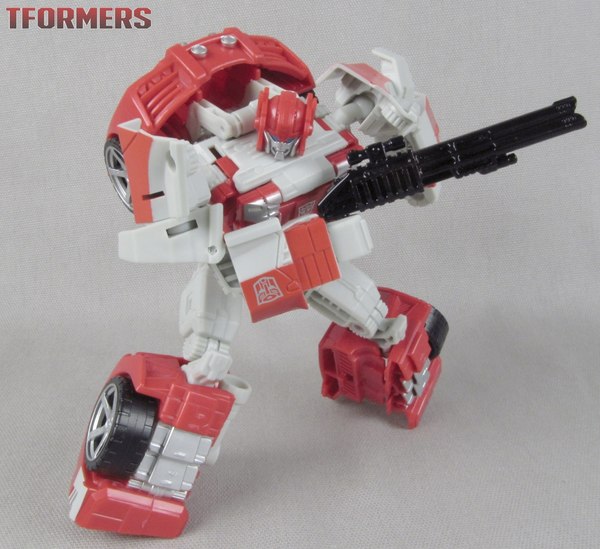 The Triple-barreled shotgun accessory is back. Love this thing. The unpainted peg saves some headaches I'm sure, but it doesn't look great anywhere but in his hand where the red peg is hidden fully.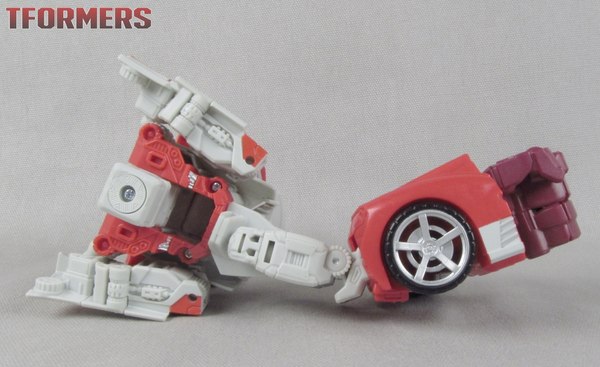 Lightsteed's recommended position is as a leg, but it's easier to get to an arm from Robot Mode so we'll cover that first. It's just the same as always, with a good strong elbow, and that hinged socket for hands and feet is the only real mistake this mold makes.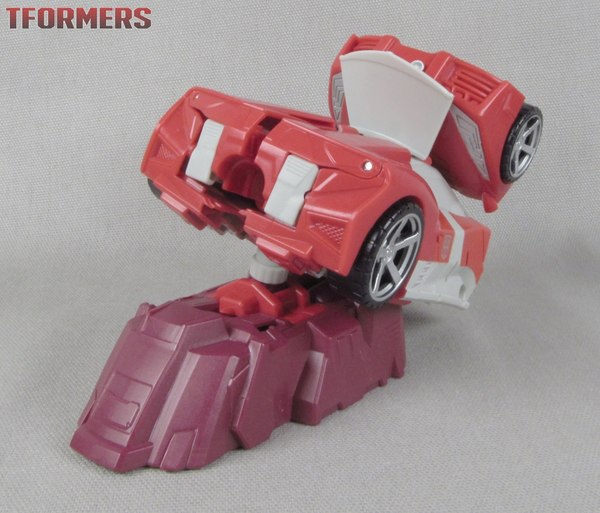 As a leg, bearing the weight of a whole combiner, the problem is more pronounced. The back end of the car is prone to popping apart, which plays hell with the mold's stability as a leg. Keep it pinched shut when you adjust the rocker ankles.
So, that's Lightsteed, probably the least interesting figure in the set. He's just Streetwise. He's not bad enough on his own to warrant a Lightsteed Rescue, but that appendage port is just not strong enough to do what needs done here in his default position as leg. I feel like the Dead End version of this mold might have been a better choice for Lightspeed's vehicle mode, but neither head on that side of things really suits the character. The Takara version wins out here, but not entirely for its fidelity to the character - though they did of course go to the trouble of molding a new head and weapons. The robot mode is more red and it has the spoiler, but the car really doesn't look any more like Lightspeed than this does. The Breakdown mold should be more stable as a leg, however - and since that's Lightspeed's default position on Computron, that counts for a lot.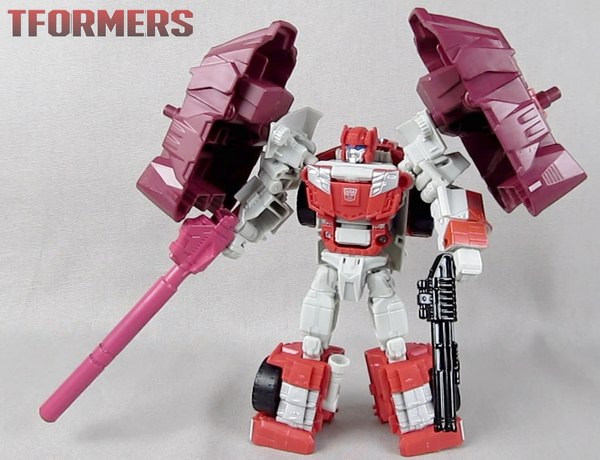 | | |
| --- | --- |
| Reviewer | RAC |
| Date | August 15th 2016 |
| Score | (7 out of 10) |
| Reads | 4222 |
Back to Reviews Index