More Than Meets The Eye
continues, and the title of the issue is enough of a spoiler that we don't feel right about using it here! So,
Transformers: Lost Light
#1 is written by James Roberts with art by Jack Lawrence, colors by Joana Lafuente and John-Paul Bove.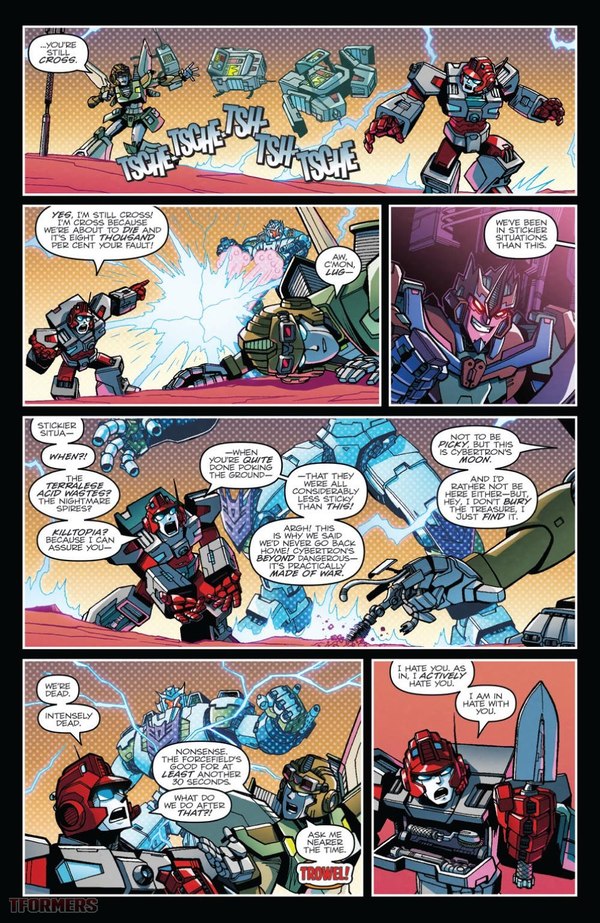 I think Anode is supposed to be charmingly annoying, but so far she's only halfway there for me.
In case you were concerned,
Lost Light
is still very much
More Than Meets The Eye
. And in the space of this issue, most of the strengths and weaknesses ExVee and I have written about in regard to MTMTE are on display here. ...starting with a couple of demonstrations of what I would consider the series' most defining weakness. Again, I'm trying very hard to avoid spoilers here, so I don't want to be more specific. But if you've read our reviews, you probably have an idea of where I'm going with that. But the story is back on track after three months of tie-in sidestories, and that's nice to see.
There's some good dialog in this, as usual. I love the phrase "Partisan Kneecaps," first off. And, as the prologue in the preview displays, we get some new characters added to the mix this issue. The two we meet in the prologue, Anode and Lug... well, I think Anode is supposed to be funny, but she tops out at annoying for me so far. But as you'd expect from the start of the new "season" of MTMTE, we alter existing character dynamics and set out on a major new storyline within the course of the issue, so there's ample room for everyone to grow.
Jack Lawrence makes his debut on interiors in this issue, and he does a solid job. His style feels a bit cartoony in terms of how he does faces. After having Alex Milne for so long Lawrence's thicker lines are taking some adapting for me, and in panels involving smaller or more distant characters it's a bit muddy looking, in my opinion. It's almost like he works at a smaller original size. This isn't something that any of Lawrence's covers displayed, so I'm thinking it's just early days in terms of his inking choices and it's something that will sort itself. But the change in artists did make one very specific thing difficult to figure out, and again, out of consideration for spoilers I guess I shouldn't say what exactly here. I'll leave it at this: I can't tell exactly what someone is wearing. New artist, new look, so scale and detail are naturally going to have some variation. Again, most of the small qualms I have are things that will either be adjusted in time, or that I'll adjust
to
.
Joana Lafuente colors the prologue while John-Paul Bove colors the rest of the book. Lafuente does her usual excellent job, and having a more familiar palette to start the book is nice. Bove's colors add to the feeling of newness and unfamiliarity the main story is projecting for me. With Bove's very vivid colors - one scene almost feels like it's out of
Regeneration One
in terms of atmosphere, which makes sense since that was also colored by him - it lends both to the sense of newness and to the feeling of needing to adapt. If Bove remains the colorist on
Lost Light
, I'm sure I'll adapt and come to appreciate his style just as much as I did Joana Lafuente's.
Covers! I'm going to give you highlights here, because nine covers is quite a lot. Jack Lawrence is gets the main cover for the book, showing off a selection of the main cast including Rodimus, Nautica, and the recently-returned Ratchet and Drift. As I mentioned above, his linework is finer here, and it looks quite good. Sara Pitre-Durocher's cover features Rodimus, Megatron, and a pensive looking Nautica. It's part of a 5-cover spread with Revolution-themed grafitti, designed to make a larger image when combined, and what I've seen of it so far looks great. The other parts will be on
MASK, Revolutionaries, GI Joe,
and
Optimus Prime
. Andrew Griffith gives us a cover of the other - which is to say
current - Lost Light
crew. Timothy Lim does a nice riff on the
Transformers:
The Movie poster using Rodimus' crew facing off against their lost ship. And lastly, Nick Roche has Rodimus floating in space like this, reaching out for the
Lost Light
as it escapes his grasp. Thematic!
Overall, it's nice to be back where we left off.
Lost Light
is the next phase of MTMTE - and despite the misgivings I've had about the book's direction for the last year or so, little of which this issue did to change my mind on, I still want to see what happens to these characters and how it all ends up. Let's find out.
| | |
| --- | --- |
| Reviewer | RAC |
| Date | December 12th 2016 |
| Score | (8 out of 10) |
| Reads | 5021 |
Back to Reviews Index