Rodimus & Megatron and their crew are trapped in a universe where the Functionist Council reigns supreme! ...but not all of the crew. Some are back on the Necroworld trying to cope with a small army of disoriented, time-displaced, and occasionally quite surly Cybertronians.
Transformers: Lost Light
#2 is written by James Roberts with art by Jack Lawrence and colors by Joana Lafuente.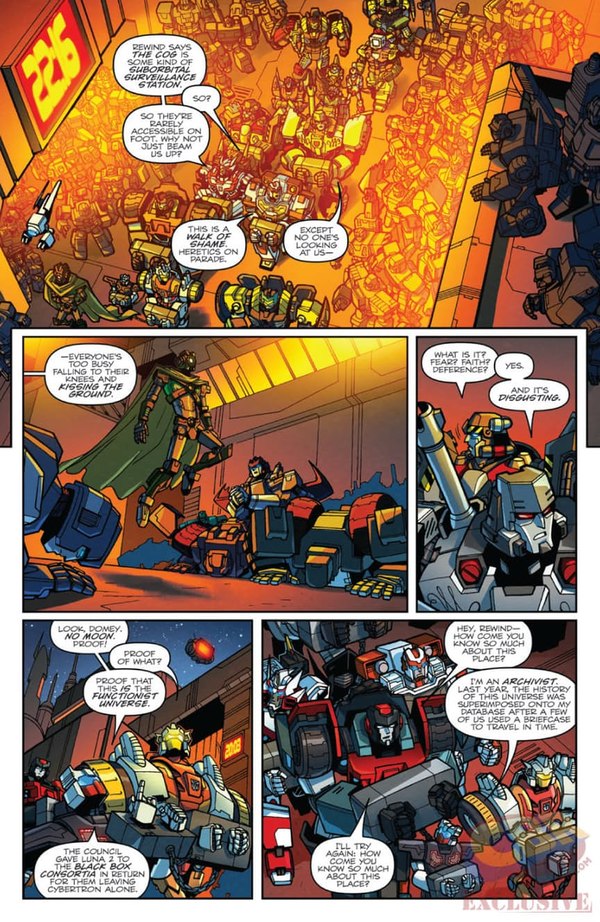 The dialogue is entertaining AND things are actually happening! Perfect.
Right now I'm much preferring the Functionist Universe half of the book, because there's more happening there and the plot is driving the characters. That's when Roberts is generally at his best, with anything and everything being a chance to reveal character to the reader through dialogue. On the Original Universe side (or
is
it? All we can say for sure is that it's the Necroworld), the plot is rather stalled in this issue, with us instead getting big chunks of characters and their relationships and dynamics. Which is not
bad
per se, but I can't help but prefer when those are in service of a clear story goal. When they become the sole focus things start to feel stalled, which was an issue I had with much of MTMTE Season Two.
That said, as we delve more into Anode I'm disliking her less. As I should've expected; MTMTE/LL does as good a job as anything I've ever read in moving beyond first impressions. There's a history behind the treasure-hunting duo of Anode and Lug, and I'm sure it will be a focus of this arc, if not this season. We get a little bit of a clue as to how Anode knows Velocity and was trying to avoid her last issue - it's what you'd expect.
And as I hoped, Jack Lawrence is settling into
Lost Light
pretty well. Maybe it's my imagination, but it seems to me that midway through the issue the lines thin out a bit, and the most complex characters in particular look much better. He still does better with broad expressions than subtle ones, though, which I suspect is something that will also improve with time. This comic thrives on subtle character acting at times, and as with the line thickness I think it's something that will come with experience.
Now that she's sole colorist once again I can safely say that Joana Lafuente's coloring suits Lawrence's art nicely. I mean, at this point she's been on the book longer than Season One colorist Josh Burcham - and so her presence does add some much-needed continuity to things as Lawrence goes through his honeymoon period. But also, the two of them simply work well together, which is good to see. There's some particularly nice work where she manages to differentiate between the natural light of the Necroworld sunset and the harsh, artificial light of functionist Cybertron while working with very similar hues in both cases. Colorists are important and don't ever let anyone tell you otherwise.
She also has a cover this month, showing Rodimus staring out at a planet in the distance (the Necroworld? Or something else?). This accompanies thematically matching covers for
Optimus Prime
and
Till All Are One,
and is really lovely. I'll be happy if she decides to do more of these! Two of the other covers, by Lawrence and Nick Roche, seem as though they're intentionally similar. Cyclonus and Megatron's poses are very, very much the same, though they read differently based on the situations the two are in. Roche's, with Megatron reaching out for Cybertron, fits the Functionist Universe storyline very well indeed and I interpret as supporting the way I would like to see the story go. Lastly but never least, Alex Milne is back! His Artist's Edition cover goes old-school with a genuine paste-up. Like, for
real:
Milne spoke on Twitter about
cutting and pasting the relevant logos and branding onto the artwork.
Kind of fun to see somebody do it the way it was done for almost a century. And beyond which, the art is as great as you expect, with Rodimus, Rewind, Chromedome, Nautica, and Roller facing off against a horde of armed assailants lurking just off-camera. Megatron's featured in an insert panel - I feel like this cover references something I should know, but so far my research turns up nothing. But either way it's a wonderful piece of art on its own, and I hope IDW makes good on its promise to have Milne back to alternate storylines with Lawrence.
So, where I'm
hoping
the Functionist Universe story goes - and Nick Roche's cover gives off this vibe to me - is that Megatron decides to try and lead a revolution against the Functionist Council, more or less in an attempt to atone for screwing up his
first
attempt at revolution. What I'm hoping will happen on the Necroworld side is... well, frankly,
something.
Like I said above, Roberts' writing works best for me when plot and character support each other, and right now there's not a lot of external forces moving that half of the cast to act. Once both parts of the story are in motion I'll be pleased.
| | |
| --- | --- |
| Reviewer | RAC |
| Date | January 30th 2017 |
| Score | (8 out of 10) |
| Reads | 3769 |
Back to Reviews Index