Hey, Luna 2 has returned to Functionist Cybertron! What great timing that can't possibly portend disaster!
Dissolution, Part 4: Bad Moon Rising
is written by James Roberts with art by Jack Lawrence and colors by Joana Lafuente.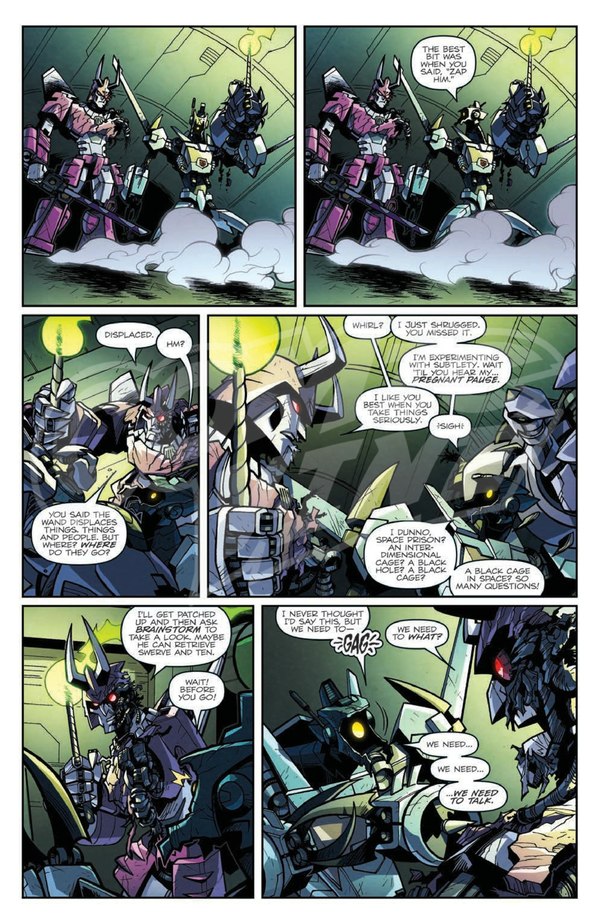 Whirl is the current bright spot on the Necroworld.
I was disappointed last issue when both halves of the story were largely running in expository mode, and it's nice that the Cybertron side of things seems to be in motion once again. The story is interesting and the characters are active parts of it there, and the most exciting and funny parts of this issue are nearly all on Cybertron. The Necroworld side is still failing to grab me though. There's some good dialogue as always, especially from Whirl. But that half of the story still doesn't particularly feel like what's happening is important outside of what we're learning about some of the characters. Maybe that's my failing and not
Lost Light
's, in wanting something that this is not delivering, I don't know. But the goings-on on Cybertron are genuinely interesting to me, and the Necroworld side is not connecting. At its best, every event in this series has been a chance to learn about the characters, but it seems that on Necroworld every character moment is a chance to move the story that's not being taken.
The art is great this issue, though. I don't know whether Jack Lawrence needed to settle in or I just needed time to get used to him, or both, but character acting this month, particularly in scenes between Rodimus and Megatron, is really fun. In fact, Rodimus is just fun in general here. I'm also liking his take on Cyclonus, who is skewing a bit looser and more cartoonish than much of the rest of the cast. If that's Lawrence's default mode and he wants to go in that direction with the general look of the comic, I'm interested to see it. And Joana Lafuente's coloring is always a benefit to the books she's on. The highlight for me (pun only sort of intended) is the Killmaster fight sequence. She does a lot of neat things with the light coming from that wand, but is also willing to ignore that green glow for certain panels to emphasize the action.
Lawrence's cover is Functionist Cybertron's Rung standing atop a pile of T-cogs, surrounded by... his followers, or an angry mob? And writing in his notepad, of course. It's a good image and I like how Lafuente has literally put a spotlight on Rung. Nick Roche's subscription cover puts Cyclonus and Tailgate in the floating in space theme, with Tailgate being the focus of a very appropriate burst of Kirby bubble-infused cosmic power. Nice! Alex Milne and Josh Perez have one of the Functionist Council eyeing up Terminus and Megatron, and there is some nice detail to that. Look at the fingertips! And it's an interesting choice to have the pair in shadow, more or less overwhelmed by the light of the optics above and the Matrix below. It took a bit to come around to that choice, but once I realized what was going on with it, it grew on me. Lastly, we have the Megatron half of an EJ Su multi-comic cover started on
Optimus Prime
#5, and I still like his style a lot after all these years. It's a very solid style of mecha design, and that Megatron looks great.
Next issue looks as though it could bring resolution to some things on both planets. I'd be fine with that, obviously. But whatever happens from here, I'd like to have a whole book that feels like it has a purpose and momentum. Maybe that'll have to wait for the next story arc. But I hope not.
| | |
| --- | --- |
| Reviewer | RAC |
| Date | March 27th 2017 |
| Score | (7 out of 10) |
| Reads | 4110 |
Back to Reviews Index