Functionist Cybertron has to be saved, and Rodimus and company have to get home. But it's looking like those goals may be mutually exclusive, and the one thing standing between Rodimus and a jump back to the Necroworld... is Rung.
Dissolution, Part 6: This Machine Kills Fascists
is written by James Roberts with art by Jack Lawrence and colors by Joana Lafuente.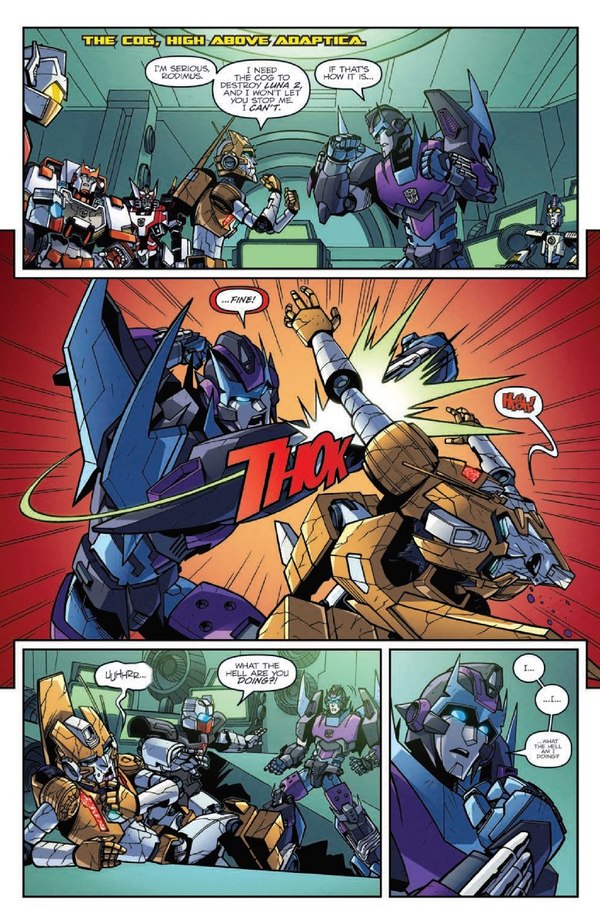 COMIC THEORY: Spectralism is real and Decepticon colors make you a jerk.
There's a
lot
that gets wrapped up in this issue. The adventure on Functionist Cybertron is concluded, and the tale of Lug and Anode's history as well. Things are left off on in such a way that we could easily revisit Functionist Cybertron in some way in the future. But if we don't, it's a relatively good way to close out. But there's another long-standing plot thread that's resolved here, and while it's a natural and more or less satisfying ending, it's also one I'm sad to see come to an end. It's going to change a lot of the dynamic of
Lost Light
in the long run, and I don't know how I feel about that yet. That said, there was a prediction I made last issue about the fate and identity of a specific character that I'm rather pleased to have been wrong about. I don't know if we'll see the character, but I still like the fact that we got a small clue.
Between his outburst (as seen in the preview) and his actions and reactions in the rest of the issue, we're moving back to a focus on Rodimus. Never one prone to self-examination, it takes a combination of shock at his own actions and a turn of phrase near the end of the issue to cause him to realize that much of his recent anger has been misplaced. The next issue preview makes it seem as though we'll learn what he intends to do with that realization, and it's difficult to say who, if anyone, will be able to talk him down. And if he brings a greater momentum and sense of purpose back from Functionist Cybertron, well, that's fine with me.
There's some interesting and fun action this issue and also some big, broad emotional scenes, and Jack Lawrence is very good at both. His action scene layouts are very easy and natural to follow, and that's an important skill to have! And while I feel like he's improved since the first issue at more nuanced and subtle emotion, there's still places in this issue that I think miss the mark by a small amount. Megatron, Rodimus and Anode - more or less the key emotional players here - all have moments where I think a little more subtlety in their expression could have perhaps been more to the story's advantage. But in terms of mechanical and emotional complexity, Transformers and
Lost Light
in particular have to be some of the hardest comics in the world to draw. The fact that the only thing I can really think of to complain about are artistic choices on the intricacies of facial expressions should be taken as a compliment, in my opinion.
As always, Joana Lafuente is excellent and as always, it's hard to find a way to call out that excellence because she's just plain good at
everything.
Her consistency of lighting is very much on display during the action on Cybertron, with Luna 2's bright blue beams throwing light and shadows everywhere. On top of which, there's a scene at the end that's pretty much entirely dependent on color to understand exactly what's going on. At first, it looks like it's just a case of bad timing, but there's something more going on there...
Speaking again of action and broad expression, I like everything about Jack and Joana's Megatron cover. It's very straightforward but fairly striking image. Nick Roche and Josh Burcham continue their theme covers with a group floating-in-space(like this) shot. Josh Burcham colors the image in a style very similar to how he's been working with Kei Zama on
Optimus Prime
, and it looks great. Alex Milne and Josh Perez give us a fantastic Robot Horror image from Megatron's nightmares: trapped, waist-deep, in the clutching hands of Functionism. The blood-red background just makes this. Marcelo Matere's Retailer Incentive cover is a picture of Rung serving as his own lectern in a three-color cover. The black background really makes the white and yellow stand out. It reminds me of
Star Wars
concept art in a very good way.
Overall, I think Dissolution was decent. There were places where it dragged, and one of its results is one that, like I said, makes me sad. Nothing particularly wrong with it, but just something I'd rather not have seen happen. But by the end of it I actually cared about Anode as a character, and I was not expecting that; I found her off-putting at the outset. So that's definitely a mark in its favor. It's definitely a "season opener" arc, setting the stage for what's to come. I expect that next issue we're going to see more of the formal setup of where
Lost Light
goes from here, and while I definitely want to see, I'm hoping that it doesn't drag the story back into the pacing I wasn't too fond of for a couple of issues on the Necroworld side.
| | |
| --- | --- |
| Reviewer | RAC |
| Date | June 5th 2017 |
| Score | (8 out of 10) |
| Reads | 4291 |
Back to Reviews Index