Megatron has left, and the Lost Light crew is preparing to leave the Necroworld. Decisions will be made, feelings explored, hearts will be broken. It never ends.
After Megatron (A Dissolution Epilogue)
is written by James Roberts with pencils by Jack Lawrence and inks by John Wycough, and colors by Joana Lafuente.
This review contains SPOILERS,
and might be best skipped if you have not read but intend to read the comic.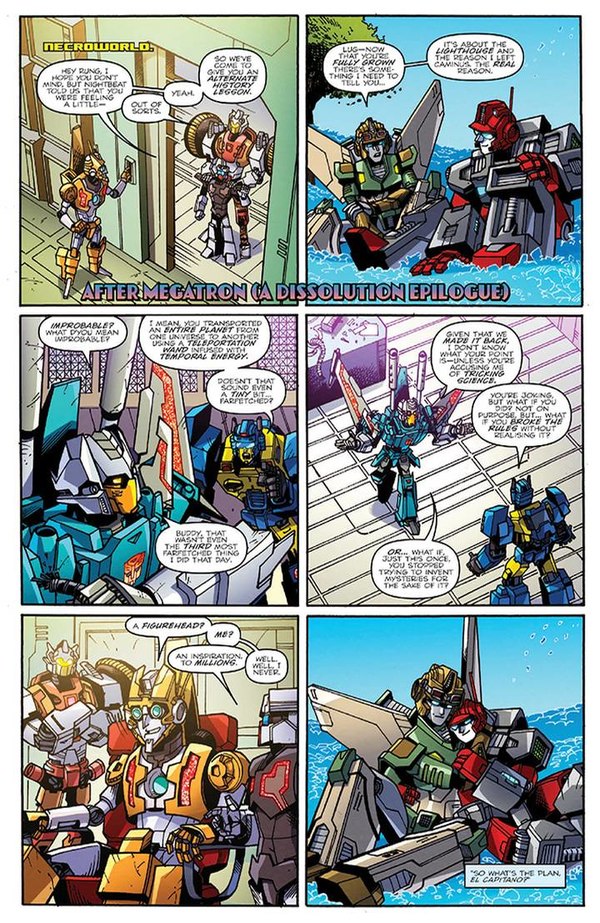 Yup, that's Lug, totally fine and unchanged despite having been reconstituted from a 400 year-old flower. I'm surprised, but I shouldn't be.
On the whole, being a wrapup/decompression issue after
Dissolution
, a lot of it has that stalled feeling that MTMTE got into in the midst of Season 2. I don't think it's inherently bad to stop for characters to indulge in self-examination, but none of it is particularly satisfying. It's a little too convenient that, after going through so much with Megatron, all of the cast seems perfectly willing to believe the worst of him, with practically no exceptions. Nobody has even considered that in the middle of a ridiculous situation he was waylaid or got lost. This sits ill with me after going to great effort to show Megatron's attempts to redeem himself - and the entire point of the crew being stranded on the Necroworld is that they
accepted
him. If Megatron was always a single mistake away from universal condemnation, you can't call what they felt about him "acceptance." You can't even say that a redemption was
possible
for him, rendering Season 2 entirely moot. Maybe this is supposed to show the cast reverting uncomfortably to type after a series of traumas, but what it feels like is a big reset button to get the story back on track after the "distraction" of Megatron. Unfortunately he's been the most interesting part of the story for years now.
And the parts that aren't navel-gazey or actively trying to set aside years of character development are frustrating in other ways. This will require more spoilers than usual as I warned about at the top, but I'm going to be frank and address something here I've been trying not to dwell on in my reviews of
Lost Light,
something that's stuck in my craw since
More Than Meets The Eye
#47 and has not gone away.
To refresh your memory on that issue, that's the issue where Tailgate is saved, by Cyclonus, from ending up on the bad end of a failed plot to remove Megatron as Captain. Tailgate realizes just how much Cyclonus cares about him, and then Cyclonus seemingly dies to protect him. The presentation is immaculate, right down to an appropriately sad song quote beneath the final panel. It's an absolutely crushing moment.
Except in the next issue, Cyclonus is fine and Tailgate is the one in a coma after a power surge that, we will later discover, has given him superpowers. In the aftermath of #47 I had a lot of feelings that the story had
wanted
me to have: I was sad for Tailgate and sorry to see Cyclonus dead. I was intensely angry at Getaway - and man, that's certainly been encouraged since. When it turned out that I'd invested that much time and feeling into something that turned out not to be true, those feelings changed into a feeling of having been cheated, or deceived. And I have done my damnedest to get over that, to put it aside as a reader and reviewer, and it hasn't worked.
Partly, it hasn't worked because
MTMTE
and now
Lost Light
are still pulling the same tricks, over and over.
Take Anode and Lug. Anode spent issues hallucinating Lug, and discovered that Lug had died where Anode was rescued by the Necrobot. But by luck, Anode had the materials and skills to pull off a miracle and regenerate Lug as a protoform. We find out this issue that Lug has all the memories that she had when she died, despite the only remnant of the original being 400 year-old residual spark energy stored in a flower. Lug is, as far as anyone can tell, complete and unchanged for the experience. This is brushed off with a statement to the effect of "Well yes, the Spark and brain module are distinct and separate entities... but who knows how they
really
work?"
I can understand a desire to preserve a character like Cyclonus and/or Tailgate who had been with us for forty-some issues. There's a lot of attachment there both for the writer and the audience. Lug has only
really
been around for
four pages.
There's very little to be gained for us, the audience, by leaving her alive with the setup we were given. It actively damages the world-building MTMTE has been so good at up to now by muddying the relationship between sparks and brains. I understand that there's everything to be gained by
Anode
, and I'd be very happy for the two of them if they actually existed. In the end though, what did this accomplish? Well, it filled space on the Necroworld side, which even with this story was by far the less interesting side of "Dissolution." It provided insight into Anode that could've been provided in less contrived ways if Lug was there with her, or could've been just as poignant if Lug was somehow changed in some way by the experience of having been dead.
There's no practical reason within the world and the rules of MTMTE/LL that Lug should be seemingly unchanged for having been dead except that the writer wishes it so. And also wishes it that we should feel something about deaths that become increasingly meaningless. These are not compatible sentiments.
I don't want a body count out of this book. I want, when the effort is made to really engage me strongly on an emotional level, for that engagement to be genuine and meaningful and not handwaved away to preserve status quo or protect author or fandom darlings. Skip the death and move the story forward. Stop trying to have it both ways. Instead this is a comic actively trying to sabotage its own emotional impact by inventing a new quantum superstate in which cake truly is both had
and
eaten. Roberts jokingly prides himself on generating heartbreak in his social media, but I'm not at all interested in having my heart broken every month with a "FOOLED YOU!" following the next month. How many times can someone pull the rug out from under you before you buy a box of carpet tacks? Or stop bothering with rugs?
Between the Lug situation and further Tailgate/Cyclonus developments this month intended to (temporarily, I'm sure) generate heartbreak, I've come to the conclusion that
Lost Light
is never going to stop doing all these things which I find so manipulative. And so this will be my final review of
Lost Light
, or any comics within its corner of the IDW continuity. Because going on like this is unfair to everyone involved. It's unfair to me as a reviewer to keep feeling obligated to write about a book that I don't enjoy anymore and that I don't
trust.
It's unfair to readers to keep having to read reviews that either suffer from that bias or are so watered-down and oblique as to say little to nothing important about the comic. And it's unfair to James Roberts and
Lost Light
's audience for me to keep harping on things that are apparently just part and parcel of this comic, and which most of that audience doesn't seem to have a problem with. So, it's time to leave.
I leave
More Than Meets The Eye/Lost Light
having read some truly great stories, some of my favorite Transformers fiction ever in fact. At its best it is one of the most intelligent comics ever written,
period.
Make no mistake, there is truly great and striking and inclusive and entertaining science fiction within this run. The first season of MTMTE is almost universally brilliant and practically everything involving Megatron has been enjoyable, producing my favorite version of the character ever written. But certain patterns have become too apparent and too frustrating to ignore, and once you see what the magician is really doing the magic trick is ruined. The least I can do after this is not remain in the audience, spoiling it for the rest of the crowd.
| | |
| --- | --- |
| Reviewer | RAC |
| Date | June 28th 2017 |
| Score | (2 out of 10) |
| Reads | 5357 |
Back to Reviews Index