Series: Transformers Cybertron
Faction: Autobot
Size: Deluxe Class
Packaging: Blister bubble package
Release: 2006
Variations: US release only
Comments:
Another non-show character in the form of Downshift who has the face of Wheeljack. His profile say that after the
Powerlinx Battles
has learned alot of experience from his mentor
Hot Shot
. Personally his profile was well written, but I follow the Japanese continuity. Downshift for me is a seperate character from Wheeljack, and would say he is his twin brother.
Vehicle mode:
Downshift painted in green and black with grey lines on both side. This muscle car resembles a cross between a mustang, and the car from the 70s TV show
Starsky and Hutch
.
The car's roof looks more leather-like texture, a black hood with engine, and the windows sports an orange tint. The headlights are also colored orange, and the rims with disc brakes comes in detail.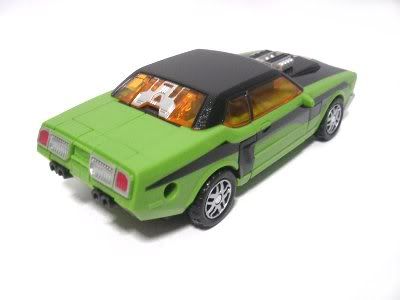 The only thing that disappoints me with this toy is theres a tiny smudge on the right side of the door in the side mirror. His attack mode looks like you have to attach both of his weapons, but not the way I expected.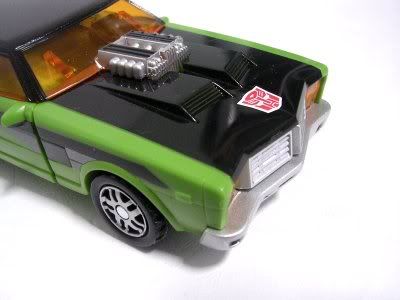 Like from other Autobots that would look good on them. In Downshift's case he looks like he came out from the old Madmax films, when you attach both guns on both sides of the car.
The cool part in his vehicle mode is that the Cybertron Key port, where you attach to reveal his special feature is hidden at his back window.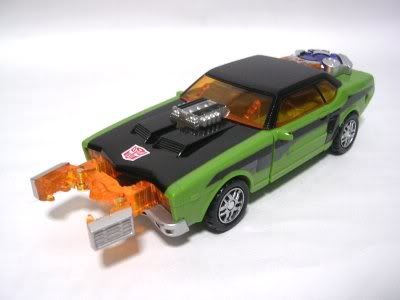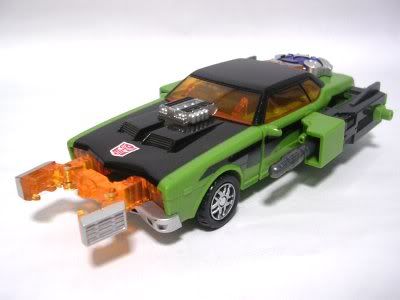 Transformation:
Open the the doors and then split the rear part of the car as it goes down. The driver compartment folds down as it reveals a spring loaded head.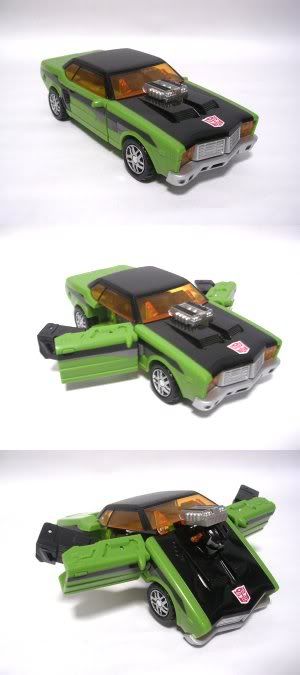 You open black panels on both legs to reveal his feet, and folding both tail light to show the heels.

Unfold both arms from the doors to show both robot fists and you have a menace looking Downshift.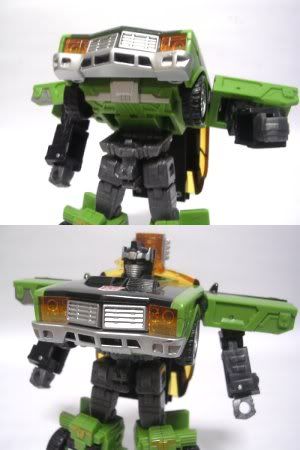 Robot Mode:
The robot mode looks tough but the weapons are not self contained like in
Excellion
's vehicle mode. He has two blaster with minicon ports, that can be mounted in both his shoulders or carry it.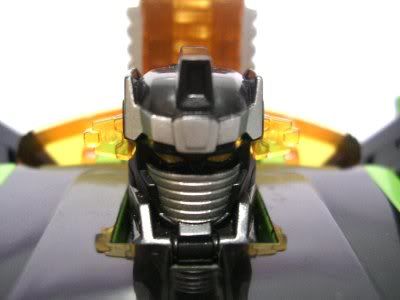 His eyes are painted gold, and both of his
ears
are translucent just like the window tints in his car mode. The not-so good part is his head has limited rotation, and he does not have hip movement. Although he has limited joint in the head and the middle part of his body he can still have a good action pose.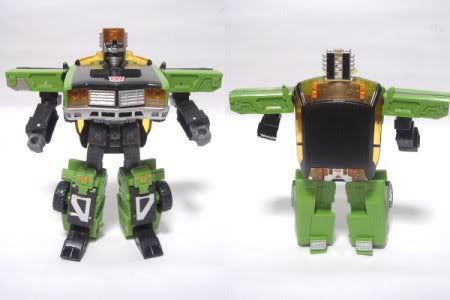 This toy that I got like I said earlier looks unfinished with the smudge on the door, and now in his robot mode with a unfinished silver paint not applied in his left shoulder.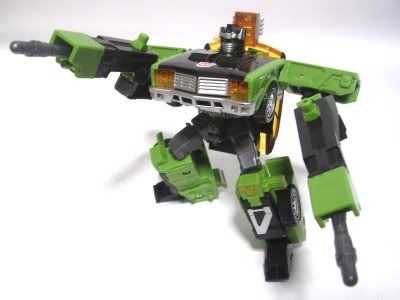 All in all he's bot mode looks menacing it just that someone who's painting this toy was in a hurry to go home.
Toy Gimmick:
Force chip reveals sneak-attack capture claw, which can be used also in his vehicle mode.
Packaging:
Blister bubble packaging same as any TF Cybertron, which has the shape of the two factions. This time around the map/product catalogue is from the Jungle planet.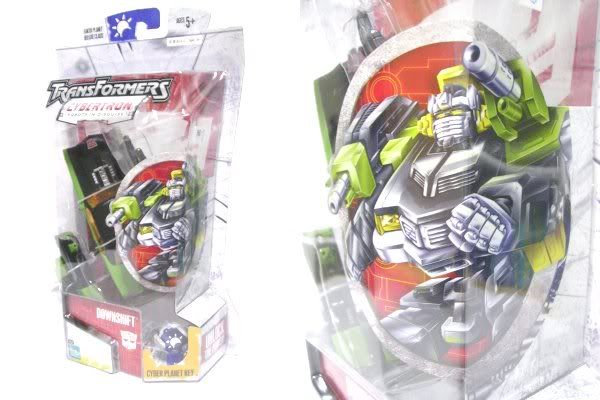 One of the four maps to complete, and form a large poster map that consists of planets, where the other transformers came from.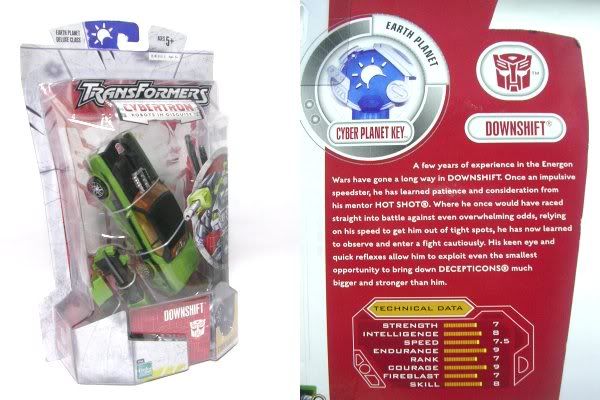 Accessories:
Two Rifles, two missiles, Earth planet chip, instruction manual, and Jungle planet map/product catalog.
Overall Rating:
Brutish looking muscle car that would remind me of
Fast and the Furious
,
Gone in 60 seconds
, and other car related films that you can think of.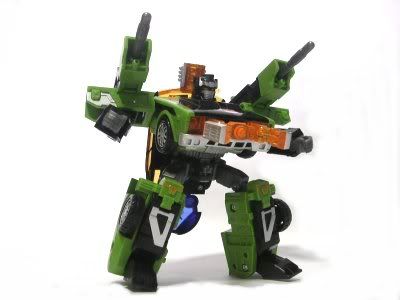 His robot and car mode are excellent. I can't say anything against the unpainted and smudge part of the toy itself. I must have gotten a lemon, and I dont know if anyone got a perfect Downshift. But overall he gets a good 8/10 robot points.
The toy gallery can be viewed
HERE
| | |
| --- | --- |
| Reviewer | Mark |
| Date | April 5th 2006 |
| Score | (8 out of 10) |
| Reads | 12871 |
Back to Reviews Index