Name: Jetfire
Series: Transformers Classics
Faction: Autobot
Size: Voyager Class
Packaging: Boxed Window Packaging
Release: Fall 2006
Variations: US release only
Introduction & Comments:
In original Generation One Series Jetfire came out as one of the tallest characters not to mention an Autobot who could fly. He was known as SkyFire in the TV series a scientist and friend of Starscream. Both where Explorers who ventured to an unknown planet would later revealed as Earth, where he would be buried alive until the rest was history. He was big and carries a big gun, and came out as a Macross toy. The mold would be the most familiar figure, that came out from the then toy manufacturer
Takatoku
, which
Bandai
would eventually bought the company and the toy molds.
Hasbro
have used that Super Valkrie mold and would be known
Jetfire
. For years the
Jetfire
name has been brought back again coming out either a space shuttle or a
cybertronian
aircraft. Not until Hasbro went back to old school and
IDW Publishing
would come out with the mini-series titled
Stormbringer
, which would eventually bring us
Jetfire
in his
Transformers Classics
toy form.
Vehicle mode: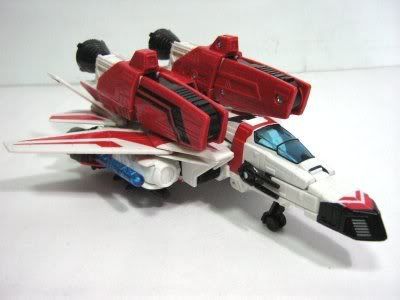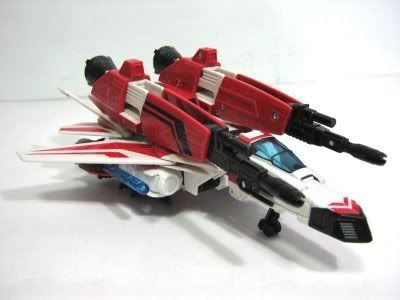 For more than twenty years sometimes you can say nothing has changed.
Jetfire
didn't changed a bit, but got more improvements and was even better than I think.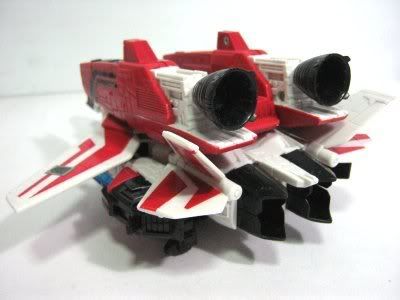 Sleek jet reminds me of the F-14 Tomcat, but the pilots nosecone look has a nostalgic resemblance to his cartoon counterpart. From the armor down to his boosters overall entire vehicle form. He has that old school Jetfire we have known when he came out. An added bonus to that beside weapons are removable.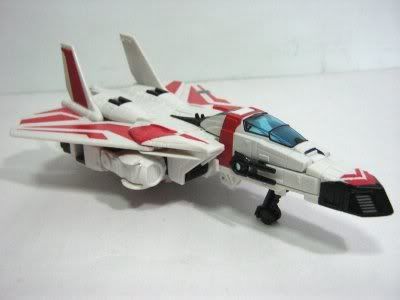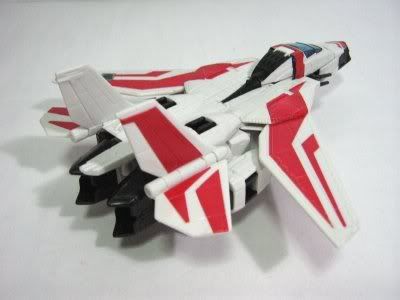 He has a
gerwalk
mode, which is not part as option to the product, but he can do that as well any Valkrie out there. The problem is he's a bit front-heavy. He can do it with all his armor intact, and all you need is to improvise in repositioning his legs. Don't forget to flatten his rear wings.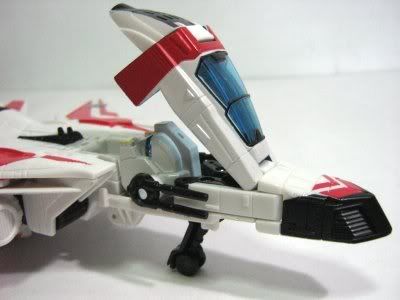 The wings can be swept to the back, and to the front depends on your discretion. Without the armor and guns attached he looks good, but just in other review he looks like a bit naked on the side. Revealing his closed fist, and If you attach all his weapons you won't notice it. Landing gears are retractable and free wheeling. The Autobot with the most symbols not only he has the signature rubsign. He's got Autobot tampos on his wings too. Colored in white, red, and black accents remains since his G1 introduction.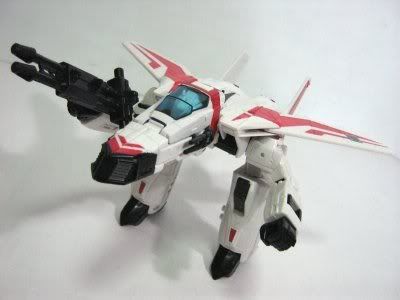 Well armed when all the weapons attached, and his two large guns swivel out reveals two massive cannons. Two tiny guns located on both sides of the nosecones rotates. Blasters on both sides fire two spring loaded missiles. The boosters on his pack can be positioned upward or downward. The two massive cannons are spring loaded, and it gets locked by sliding the piece that's attached near the thrusters.
Transformation:
An old school would always stay
old school
just like his G1 predecessor. The transformation is almost as close as the same. The difference since he is entirely a new mold his nosecone reveals where his head is located. The nose of the jet splits and retracts to the side. His arms on the side gets unlocked as shoulder rotate to for adjustment to the proper position in robot mode. The entire back folds back and the wings swept forward, but like I said before its in your discretion you position the wings. I just follow the
Stormbringer
look.
The weapons or shall we call it wrist blasters can either be removed rotate upon transformation. Robot mode is not that difficult for the average guy who owned a Super Valkrie. Either that if your not familiar with the toy for the first time, maybe you should try the instruction manual.
Robot mode: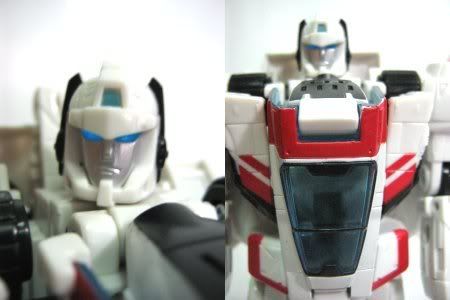 His head's bigger than I thought, and there was some would say its not balanced. Well that's fine for me to say underneath is his actual face. The familiar cartoon look complete with light piping effect. His eyes are blue and the helmet is a cross between the old G1 head and
Bruticus
. Antenna can rotate and becomes his mini-machine guns. Without the armor and the helmet looks like he lost weight. His handheld blaster in vehicle mode splits in half, but put together in robot more its a twin nozzle blaster. Its the usual weapon he carries in the
Stormbringer
comics.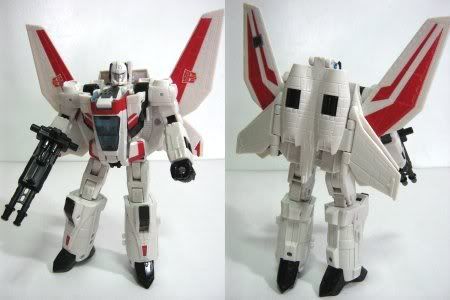 As tall as
Classics
Megatron he's bigger than any of the good guys both in robot and vehicle mode. Arms are well articulated down to his wrists. The legs won't have the same impact as has less articulation, hence the limited action poses you could make.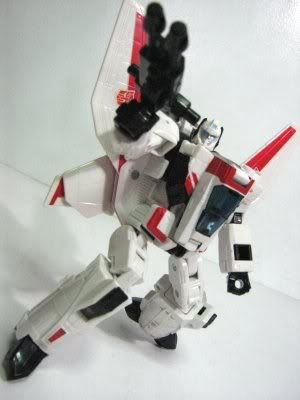 In armor mode he's a one-robot killing machine with array of firepower. His back pack can swivel, and position as his shoulder mounted cannons. His back pack is top heavy and easily fall down. His action poses are not positioned properly, due to his short legs with limited articulation. Other than being his body is not proportioned. This is one of the best looking TF Classics to come out.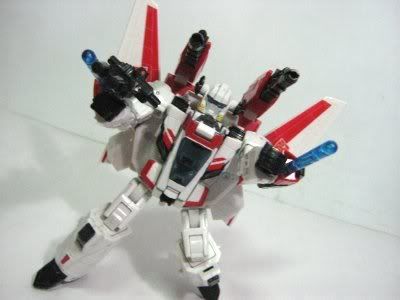 Toy Gimmick:
Spring loaded shoulder cannons, Removable armor, and weapons. Not to forget removable helmet reveals his cartoon/comics head. A lot of time playing the figure and transforms into a jet that turns into a armored robot. Enough playability not that is definitely a gimmick.
Packaging: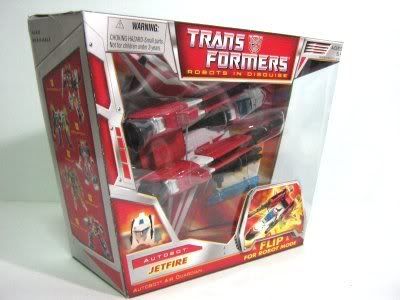 Packaged in window box with the
flip mode
reveals his robot mode in the photo. Wrap in more wires than Optimus Prime, and Megatron combined. Coming out from the Wave 2 assortment and notice the box copyright is now under TOMY limited.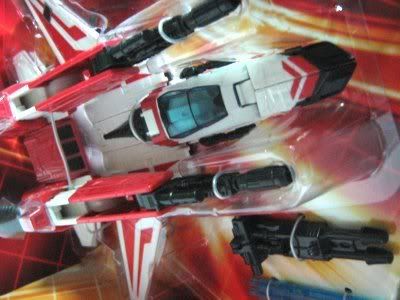 Accessories:
Comes with a blaster, removable back pack, two missiles, wrist launchers, helmet, and product manual.
Overall Rating:
I would consider Jetfire tops overall on my book. With a lot of gimmicks that came with him, and nostalgic look of his cartoon appearance would give reason for him to be sold out. He maybe a bit costly here in the Philippines due to, that he's been sold in specialty stores. No word if he'll be out in toy stores such as Toys R' Us or Toy Kingdom, but he ever gets to be sold in malls expect him to fly off the shelves.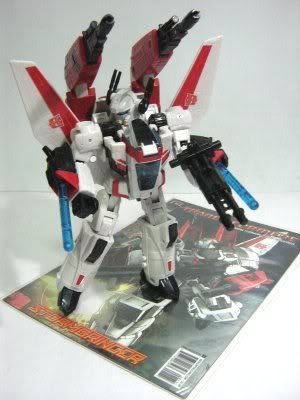 Small gripes about his fist showing in vehicle mode and limited leg articulation. Include the top heavy-ness in robot mode with all his armor attached. I give Jetfire a score of 9.5 Robot Points.

| | |
| --- | --- |
| Reviewer | Max Convoy |
| Date | January 1st 2007 |
| Score | (9 out of 10) |
| Reads | 17022 |
Back to Reviews Index