Because
clearly there was not enough to preorder at the moment
, Hasbro Pulse has listed a 3-pack of vintage G1 mini-cassettes including two previously-unreissued Japan only cassettes in the form of Gurafi and Noizu! Product descriptions and photos follow:
Experience the figures that started it all. These Transformers: Vintage G1 Mini-Cassette 3-Pack figures are designed like the original G1 versions -- including figure styling, packaging, and art inspired by the 1987 G1 releases, plus classic tech specs and accessories. (Re)start a vintage Transformers collection with these Noizu, Gurafi, and Decepticon Frenzy figures. Decepticon Frenzy craves spreading fear and destruction. Can roll his drums to produce high-pitch sound of 200db.

Gurafi is the calmest of his teammates. Beak can tear through 5 cm of steel and has low-powered laser that blinds enemies. Noizu is the most violent of the Dinocassettes. Crumbles steel reinforced bridge supports in a single blow. Noizu and Gurafi combine to form Decibel. Clip out and save the on-box tech specs to share, then see how this figure stacks up against other heroic Autobots and evil Decepticons (each sold separately).

Includes: 3 figures, 6 accessories, and instructions.

The Vintage G1 Mini-Cassettes 3-Pack features figures inspired by the 1987 G1 releases of Noizu, Gurafi, and Decepticon Frenzy figures
Fans can imagine Autobot Dinocassettes Noizu and Gurafi teaming up to take on the evil Decepticon Frenzy in an epic mini-cassette battle!
Autobot Dinocassettes Noizu and Gurafi figures combine to form the powerful and quick Decibel
Inspired by the original G1 packaging, this 3-pack features the original G1 Transformers logo, character art, and classic Autobots versus Decepticon battle scene
Complete tech specs for all three figures are included on the pack in the classic G1 style fans know and love. Compare figures' strength, speed, firepower, and more

ExVee
-
2019-07-22 @ 1:22 am
An interesting note from Kapow Toys on Facebook suggests that the three pack featuring reissues of the rare G1 combiner dinosaur cassettes Graphy and Noise (or Gurafi and Noizu as they're being presented for probably mainly trademark reasons) along with a reissue of Frenzy (the blue one) in a deco a little more informed by the cartoon appearance of Rumble might in fact only be one of two planned waves.
Click Image to Read the Full News Story Now
Why are the Frenzy's legs backwards?
Were they backwards on the original Japanese release?
BaCon
-
2019-07-19 @ 3:08 am
What a coincidence, the Gurafi, Noizu, and Frenzy Mini-Cassettes 3-Pack were the big reveal at the Hasbro Pulse Party tonight, in addition to going up for pre-order on their site. Have a look at the party display from the event below.
Click Image to Read the Full News Story Now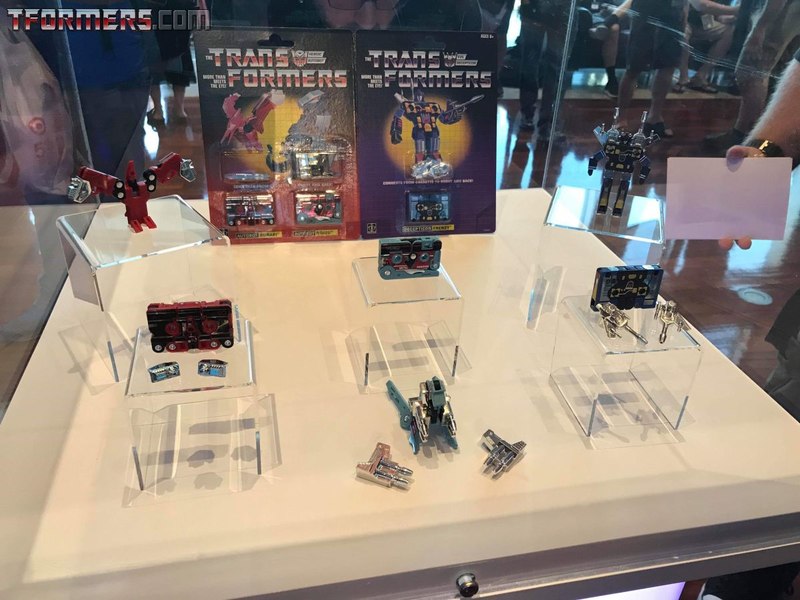 BaCon
-
2019-07-19 @ 1:30 am
Nice surprise indeed, especially at this price point.